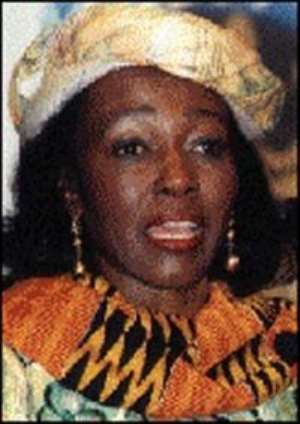 .... Convinced Mills won't run in Dec. polls
The battle for the heart and soul of the ruling National Democratic Congress in the run-up to the December 2012 polls is far from over. FONKAR has always been of the belief its 3% votes gained in last year's NDC presidential primary will determine who becomes President of Ghana in 2012.
However, in recent weeks FONKAR has revised its notes and is confident Nana Konadu Agyemang Rawlings will emerge as the Presidential Candidate of the NDC in the 2012 elections.
The splinter group's confidence is borne out of its conviction that President Mills will in August this year resign as President of this country on health grounds. According to sources within FONKAR, President Mills after his resignation will then handover to his Vice, John Mahama, in readiness for another NDC congress.
The strategy of Mills to make John Mahama President is to give him the upper hand in the NDC congress. But this strategy, according to FONKAR, will not work as they are of the firm belief that Nana Konadu will beat John Mahama any day and anytime.
FONKAR's disposition towards this conviction was given more impetus by an interview granted by Nana Konadu to Joy FM's Bola Ray last Thursday March 8, 2012.
When pressed by the Joy FM presenter about her presidential ambitions in future elections, perhaps election 2016, Nana Konadu stated unequivocally that it was too premature to rule her out of the 2012 presidential race, adding that she was still keeping her cards to her chest.
With posters of 'Nana Konadu for President 2012' splashed all around the major capital cities in the country, indications are clear that FONKAR and Nana Konadu Agyemang Rawlings certainly have eyes for the Presidency in 2012.
FONKAR's conviction may not be far from the truth as there are moves within the party to find a replacement for President Mills for the 2012 election. Hawks within the NDC believe the President's health will make it almost impossible for him to seek a second term primarily because of his inability to undergo the rigours of another gruelling campaign season because of ill-health.
At a recent meeting, with the party big wigs in attendance, it was reported that Kojo Tsikata suggested that for the sake of party unity and a strong showing the 2012 polls, President Mills should resign and handover to John Mahama.
Kojo Tsikata was said to have further suggested that John Mahama be acclaimed as the NDC's 2012 Presidential Candidate, at a hurriedly organised congress, with Nana Konadu Agyemang Rawlings being chosen as his running mate, to ensure that Jerry Rawlings becomes a part of the 2012 campaign.
Kojo Tsikata reportedly warned of dire consequences for the party if the party founder was not a part of the party's 2012 campaign, because arguably, former President Rawlings is extremely popularly among the disenchanted grassroots supporters of the party.
These suggestions by Kojo Tsikata was said to have been hailed to a large extent by some of the big wigs present, particularly those who see John Mahama and Nana Konadu as not being a threat to their chances of leading the NDC in 2016.
Mrs Rawlings, it is reported, is not prepared to work under John Mahama. Close friends of John Mahama, however, also fear that it would be a disastrous political marriage and dread the prospect of such a presidency.
However, President Mills was reported to have shot down these recommendations, stating categorically that he was in perfect health and would be able to campaign effectively during the electioneering period.
In a statement that raised many eyebrows but drew wry smiles on the faces of the President's backers, President Mills was said to have stated categorically that he was strong enough to win the 2012 elections with or without the involvement of the party founder.
Meanwhile, the Mills kitchen cabinet dismisses all the speculations as a pipe dream of the NDC camps that can't wait to take over. "The President is fit and determined to win a second term and rule for 8 years."