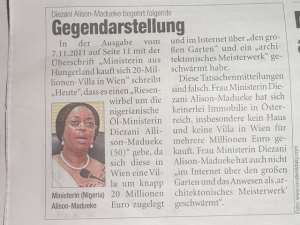 Fellow Nigerians, this is to inform you all as I earlier wrote in my article titled "The Truth About The Oil Ministers 20 Million Euro Mansion In Vienna" that oil minister Alison Madueke has got no mansion in Vienna. Today 13.03.2007 "Heute" on page 8 has concurred to my finding and has officially retreated their earlier report. Here is the translation of the above report:
"Diezani Alison-Madueke desires following
Counterstatement
In the edition of 7.11.2011 "Heute" wrote on page 11 with the headline "Female Minister From Hungerland buys Herself 20 million Euro Villa in Vienna" that there was "a big turbulence about the Nigerian Oil Minister Diezani Allsion-Madueke (50)", because she was said to have got a mansion in Vienna for just under 20 million euro for herself and to have been enthusiastic about the big garden and the architectonic masterpiece on the Internet.
The information of these facts is wrong. Mrs Minister Diezani Alison-Madueke did not buy any estate in Austria, especially no house or mansion in Vienna for several million euro. Mrs Minister Diezani Alison-Madueke was also not "enthusiastic about the big garden and the estate as architectonic masterpiece on the Internet."
Remember thousands of people insulted me and called me unprintable names. Some claimed that I was bribed by the Oil Minister or bought by President Jonathan's government to defend them with my article. Some called me a rogue, fraudster and blackmailer etc. but today my God has vindicated me. All that wrote ugly things about me I expect them to say Mr Uzoma Ahamefule, I am sorry. Though, I am personally not too satisfied with the "Heute Counterstatement" because I had expected in their retreat statement to say something like "We are sorry" or "We apologise" and not "Diezani Alison-Madueke desires the following". Do not also forget that the reputation of Nigeria, the emotion of Nigerians and their ego were equally bruised; what happens in this direction? My take on this supposed to be apology from "Heute" is nothing but a withdrawal of their earlier report without remorse to the feelings and the ego of Nigeria and Nigerians that were badly bruised and damaged with that report. Things being equal, the final truth has finally been revealed and the rest is now in the hands of Nigerian officials.
I want to inform Nigerians that I am a patriotic citizen that has given himself a big responsibility in contributing to the building of Nigeria as little as I can. Therefore, no amount of intimidation, lies or threats can make me to abandon this struggle because my placenta is buried in Nigeria and as such my future and that of my children and grandchildren lies in Nigeria. I call on all Nigerians to join me in this course, it is a clarion call because our future is in our hands. Do not be scared of the iniquities of the wicked men because the triumph of evil over good is only temporal.
There is no controversy that Nigerian politicians are too corrupt, because a country naturally blessed like Nigeria is not supposed to lack fundamental needs like water, electricity, good roads, quality schools and standard hospitals etc. However, we must be honest with our reports because you can neither fight evil with evil nor can you tackle corruption through corrupt means or fraud.
Mrs Alison Madueke in this case is a victim of ethnic manipulation. Let us be civil and spread this message for posterity to judge us well.
Uzoma Ahamefule
A concerned patriotic citizen writes from Vienna, Austria
[email protected]
+436604659620 (sms only)
Blog: http://globalreporters1.blogspot.com