Parliament adopts report on disability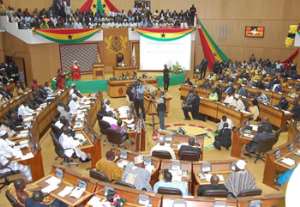 Accra, March 12, GNA – Parliament on Monday adopted the report of the Committee on Employment, Social Welfare and State Enterprises on the United Nations Convention on the rights of persons with disability and the optional protocol.
The convention was laid in Parliament on July 20 2011 by the then Minister of Employment and Social Welfare, Enoch Teye Mensah in accordance with article 75 of the 1992 Constitution and was referred to the committee for consideration.
Mr Alfred Abayateye, Member of Parliament (MP) for Sege, who read the report said the general obligation of States require that signatories to the convention are expected to promote the full realisation of all human rights and fundamental freedoms for all persons with disabilities.
He said to this end state parties should undertake to adopt all appropriate legislative, administrative and other measures for implementation of the rights recognised in the present convention.
Mr Abayateye said the convention is divided into 50 articles with article one defining the purpose of the convention, which is to promote protect and ensure the full and equal enjoyment of all human rights and fundamental freedoms by all persons with disabilities, and promote respect for their inherent dignity.
He said the Committee has noted that ratification of the Convention has advantages for Ghana domestically and internationally.
Mr Abayateye said the convention provides practical guidance for States on measures they should take to remove barriers to persons with disabilities being able to enjoy the rights.
Accordingly Ghana's ratification will focus action domestically on enabling persons with disabilities to participate in all aspects of the society on equal basis.
He said greater impetus and support for implementation of the disability Act, 2006 Act 715 would be provided through ratification.
Mr Hackman Owusu- Agyemang, Member for New Juaben North, said there was the need to let the sector Minister and the President know that the Legislative Instrument should be handled with urgency.
Alhaji Pelpuo Addul- Rashid, MP for Wa Central said it was important for one to know that people with disability deserve the right to enjoy everything as enshrined in the convention.
Mrs Gifty Eugenia Kusi, Member for Tarkwa-Nsuaen wanted to know the number of district assemblies that have allocated the two per cent of the District Assemblies' Common Fund earmarked for persons with disabilities.
She urged members to follow up to see whether their directives on the issue are being implemented by the district assemblies.
Mrs Osei-Opare Frema Akusua, MP for Ayawaso Wuogon observed no single ministry had made its premises accessible to persons with disabilities and called on the Minister of Employment and Social Welfare to take the initiative.
GNA