GREL rehabilitates Abura Police Station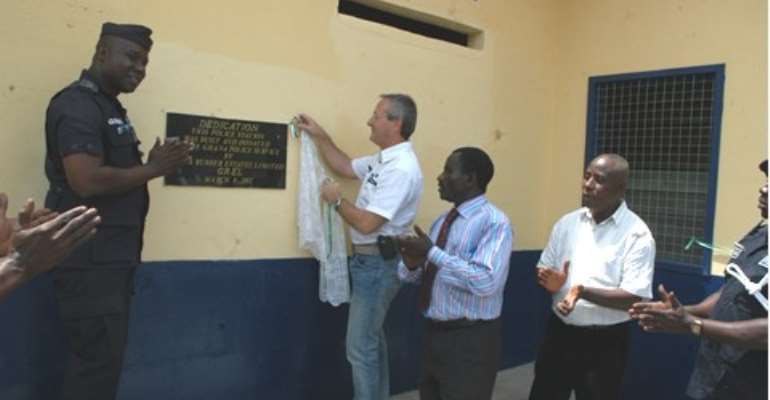 The Ghana Rubber Estates Limited, GREL has refurbished a police station for the Abura community in the Ahanta West District of the Western Region at the cost of almost 60,000 Ghana cedis as part of its corporate social responsibility initiatives.
The company, which has been supporting education through the construction of schools and the awards of scholarship for inhabitants in its operational areas, says it is also committed to security hence its massive support for the police service.
At a ceremony to commission the police station, the Human Resource and Administrative Manager of GREL, Mr. Joseph Garbrah said the company has been supporting the police since 2007, and will continue to keep a close relationship for their mutual benefit.
Mr. Gabrah noted that as long as the Police protect their plantations from encroachers and also maintain law and order for the general good of investors, businesses owe it a duty to support the service in executing their duties more efficiently.
He disclosed that GREL in 2008 also renovated the female cells of the Kwesimintsim police station in Takoradi, provided them with computers and other basic needs.
"We have also built the CID office for the Agona Police station and we are going to do a lot more for them. We also have something in the pipeline for the Axim Police station. So our relationship with the police has been spanning for the past five years and we hope to keep this cooperation for our mutual benefit" he noted.
The Human Resource and Administrative Manager commended the Police in Ahanta West for protecting their investments.
The Managing Director of GREL, Mr. Lionel Barres reiterated GREL's commitment to provide support to the police to compliment Government's efforts at maintaining law and order.
The Kwesimintsim District Police Commander, DSP Yakubu Ayamga, who received the keys to the refurbished police station, commended GREL for constantly assisting the police and assured them of maximum security for their rubber plantations as they contribute to the country's economic growth.
GREL later commissioned a water storage facility at the Kwesimintsim Police Station.