Man Bags 5 Years For Stabbing Brother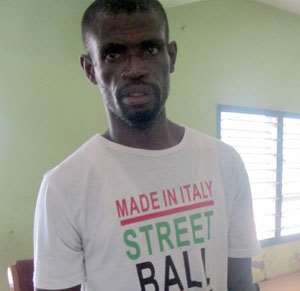 Peter Tei Wayo
A 38-YEAR-OLD unemployed man who allegedly stabbed his biological brother with a kitchen knife at Sakumono Village in Tema has been sentenced to five years' imprisonment in hard labour.
The accused, Peter Wei Wayo, pleaded guilty to the charges preferred against him when he appeared before the Ashaiman Circuit Court presided over by Tsatsu Yao Azumah.
Narrating the incident leading to his arrest, Inspector Mary Assan, prosecutor in the case, told the court that the accused and his 49-year-old brother, Dekei Ocansey Wayo, lived in the same house with their 80-year-old mother at Sakumono Village in Tema.
The accused, who was a seaman outside the country, had been laid off for the past two years and had made it a habit to eject tenants in his mother's house, re-rent the rooms to different people and spend the money.
When the complainant, Dekei Ocansey, elder brother of the accused who resided in Cameroon came to Ghana and was informed about his  brother's behaviour, he called Peter on February 18, 2012 and questioned his behaviour.
The accused, who was offended by his brother's interrogation, stabbed the brother in the stomach several times with a kitchen knife, causing his intestines to gush out.
The prosecutor noted that had the victim's screams not attracted some of the neighbours to the scene, Peter would have murdered his brother in cold blood.
The prosecuted added that a certain Abraham Torgbor who also rushed to the scene, managed to wrestle the knife from the accused, arrested him and sent him to the police station, while the complainant was also rushed to the Tema General Hospital where he is on admission and is responding to treatments.
Peter admitted the offence in his caution statement and he was arraigned before the above court and sentenced to five years' imprisonment in hard labour.
From Vincent Kubi, Ashaiman