MTN Boss sees risk of unprofitability for sixth operator, but...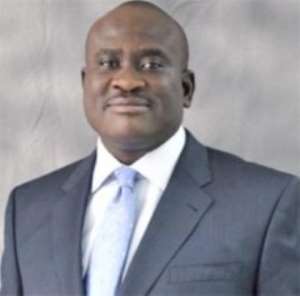 MTN Ghana Boss, Michael Ikpoki
MTN Ghana CEO, Michael Ikpoki says the current state of Ghana's telecom market poses a risk of unprofitability to any new entrant.
He noted that the market already has more than 80% mobile penetration; multi-simming (people using more than one SIM card) is huge; and average revenue per user (ARPU) keeps dropping so a new entrant is likely to dilute the revenue of the existing operators but also face the risk of unprofitability in the long-run.
Mr. Ikpoki was answering the question as to whether the market was ready for the recently licensed sixth operator, Glo Mobile, in an exclusive interview with Adom News Editor, Nii Narku Dowuona.
He said the question of whether Glo was welcome into the Ghanaian market was no more relevant because it has been licensed, but the risks it poses for the market is a concern to existing operators, and whether it would succeed or not "time will tell."
"This business is very capital intensive and if a huge financial outlay is put into building capacity and making capital investment and you don't have enough subscribers on your network to sustain the amount of investment made, what happens in the long-run is that you create a situation of unprofitability; and if a network is not profitable, the issue of expansion would be called into a serious question," he said.
He said he would not want to be too specific as to whether the sixth operator will succeed or not because at the end of the day the market place will decide that, adding "I don't know what will happen in the next one year, two years or three years but the risk of unprofitability must be noted."
But he admitted that the coming of a new player is also good because it creates competition – it creates an opportunity for innovation and all the players now work harder and consumers benefit.
"I think we must admit that competition has worked very well in the Ghanaian market – we have been able to attract big players into the market and subscribers have had the best benefit of it – but my point is that depending on the number of players in the market, depending on the capacity of the market, the other side to it is that the networks need to be reasonably profitable," he said.
Meanwhile Vodafone Boss, Kyle Whitehill is also on record as saying the market is not ready for a sixth operator and that with the sixth operator's presence there would eventually be consolidations in the long-term, otherwise some players would collapse.

But Glo Mobile Ghana Chief Operations Officer, George Andah said Glo has always viewed the Ghanaian market as an exciting and challenging one but they believed it also presents fantastic opportunities, particularly in face of subscribers raising issues about service and network quality, value delivery and wanting better alternatives.
"We are not assuming that we will come into Ghana and walk over the competition overnight. We are here to build a long-term relationship with the Ghanaian consumer and the market and this position is based on our strong understanding of the telecoms industry, the Ghanaian market and the superior technological advantage we have. Certainly this will ensure that the quality of service our innovative products, services and promotions underpinned with great customer care that will eventually lead customer to consider Glo as their most preferred mobile voice and data service provider in Ghana" he said.
On the question of whether Glo has some apprehensions after investing $750 million into a near saturated and competitive market without making a pesewa, George Andah said apprehension does not play a role here for Glo and indeed this is not in the vocabulary of the Glo family.
He said Glo is excited by the fact that several Ghanaians have been telling of their expectations of Glo's superior data services, adding that "data is an area where we will clearly deliver the most superior experience once we commence commercial operations."
"Our number reservation campaign has been very successful – and that is a sign that Ghana is ready for Glo. Our investment in technology has enabled us to put out what can easily be referred to as the most modern network in the country. We look forward to welcoming all of Ghana onboard our network to experience great customer care, superb network quality and superior value offerings when we start commercial service, which is much more imminent now," he said.
George Andah noted that Glo believes in respecting the customer and giving value for money and promises to give Ghana the greatest voice and data experience and make Ghana, the customer and Glo eventual winners at the end of the day.
Some telecom CEOs have said Glo's main advantage would be in data rather than voice services, and George Andah said it is obvious from Glo's investment into the Glo One fibre optics cable and other network infrastructure that Glo will offer the most superior data services with exciting products and tariffs, which is exactly what customers have been asking for over the years.
"But we are not going to keep our eyes off the ball on voice opportunities and put all our focus on data because even in the developed markets where data uptake is growing, data revenue can still not match that of voice," he said.
George also expressed concern about the arbitrary charges by MMDAs and government agencies on installation of telecom infrastructure to bring service to the public.
He said rather than see telcos as easy cash cows in Ghana, telcos should be seen as development partners that are making significant contribution to the development of the country and to better people's lives and businesses s.
George Andah said he is confident that with the ongoing engagement and the intervention of the regulator, the Ghana Chamber of Telecommunications and the Ministry of Communications, those issues would be resolves in the interest of the greater good of the country.

Story by Samuel Nii Narku Dowuona/Adom News/Ghana