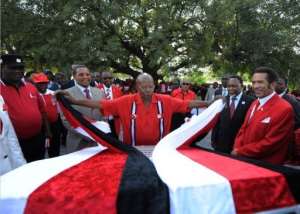 GABORONE (AFP) - Botswana's ruling party celebrated its 50th anniversary Saturday with praise for turning the world's biggest diamond producer into a model of African democracy and good resource management.
The colourful celebrations also marked the Botswana Democratic Party's 45th year in power since independence from Britain.
"BDP is a moral political party with a glorious history and great achievements which we are celebrating today," said Tanzanian President Jakaya Kikwete, the guest of honour.
"Botswana has and continues to be a model of democracy coupled with a sound growing economy and political stability, things which are lacking in many countries."
Kikwete applauded the party for its policies, saying the country was the envy of the continent and the world.
"As a region we are proud of this country, hence many countries benchmark with Botswana when it comes to resources management,' he said.
Regarded as one of Africa's most stable democracies, Botswana has been politically dominated by the BDP. Recent efforts by the country's three main opposition parties to form a coalition have floundered.
"We take pride as a party in the phenomenal infrastructure growth that we have achieved so far and for making Botswana a middle income country through proper management of our resources," said President Ian Khama, whose father Seretse was the country's first post-independence leader.
"No party could have achieved this and no party will propel the country to more development than the BDP."
Botswana is the world's largest producer of diamonds and with its growing economy is heavily reliant on the mineral.
Though its gem sales plunged by more than 70 percent in the second half of 2011, the finance minister has predicted the economy will grow by 4.4 percent in 2012.