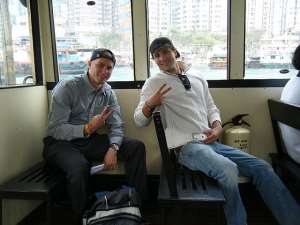 Kobi Ansong, Spring '11, Morehouse College senior English major
[email protected]
Atlanta, GA—They sailed. They saw. They innovated.
Every few years, a new social network enters the scene and dominates the World Wide Web. Fipeo is next in line.
The objective is bold: to be the world's number one network for meeting new people. The video-based social network allows users to define the person they are looking for with keywords. For instance, a person relocating from Boston to Atlanta can search 'Atlanta, GA' and 'Realtor®', find the perfect match, and send a video message or schedule a video chat through Fipeo.
Fipeo's aim is to utilize technology to form social connections the original way, face-to-face. Most social networks are text-based and information is broadcasted to the world. At Fipeo, all personal information is kept behind-the-scenes.
Meet Tom Houge and Jeff Lucas, co-founders of Fipeo. Houge is a 21-year old Connecticut resident that studied Entrepreneurship at the University of Miami. Lucas, originally from Colorado, recently graduated from the College of Charleston with a degree in Entrepreneurship.
While the MV Explorer sailed to U.S. soil after a four-month adventure last spring, Houge and Lucas traded business ideas with a few shipmates.
Houge jokingly shot out an idea about a site where fans could post photos of their favorite celebrities out and about from mobile devices that log the GPS location.
"There is a website where you type in a celebrity's name and follow their path of photos and then verify whether or not you think they were really spotted there," Houge said.
Eventually, reality hit. Legal issues would be inevitable. They scrapped the idea, but an innovative flame was sparked. Tom retreated to his third deck cabin and brainstormed more potential businesses.
"I was really trying to think of an idea that I only could have thought of after going on Semester at Sea," Houge explained.
The University of Virginia-sponsored study abroad program allows students to experience an array of cultures in a semester. Houge and Lucas traveled to three continents and twelve countries with Semester at Sea. As Houge brainstormed, the language barrier was a consistent theme in his mind.
"You can't really learn a language without studying abroad in the country, living there, or at least speaking to a fluent speaker," Houge said. "So I thought it would be really sweet if there was a video-based social network where you could find and connect with people to learn languages."
As soon as Houge relayed the idea, Jeff loved it. The two friends, turned business partners, started expanding and developing the concept immediately.
"We started meeting on the ship to talk about it. We went and watched Social Network in my room. We'd meet up and brainstorm some ideas," Houge said.
Like all amazing things, Spring Voyage 2011 ended. The boat ported in San Diego and students and faculty disembarked. New friends parted ways. The journey was over. But for Houge and Lucas, a new one had just begun.
Within weeks, Lucas relocated to Houge's hometown of Cape Elizabeth, ME for the summer. Friends and family showed their support during the early stages. Everyday people stopped by to lend a hand or offer advice. They soon moved in with Houge's family in Long Island, penned a business plan, and presented a concept video and Prezi that won the support of Houge's uncle, a New York insurance executive.
After securing their first investment, Houge relocated to Colorado Springs, CO with Lucas and his family. They studied wireframes, created Fipeo's blueprint, and outsourced the coding to a firm in India, Viscus Infotech.
The next challenge the young entrepreneurs faced was finding the perfect name for their new site.
"I was trying to combine 'face' and 'edu' because education was really our focus at first," Houge said. "So we rolled with FacedYou, and later noticed it was actually a mix between Facebook, LinkedIn, and YouTube."
After further research, Houge and Lucas discovered Facebook trademarked the use of the word "face". They were stuck where they started, with nothing. As Houge sat in computer science class one day, it clicked: "Fipeo: Find People".
"It's just the sound Fipeo. No one really knows what it is, but I think the message behind it of finding people and video is exactly what we want our company and brand to convey," Houge explained.
Between securing investments, developing the Fipeo mobile application, supervising the beta website, and advertising, Houge and Lucas are busier than ever.
"I was always under the impression that I was going to go for it," Lucas said about his decision to become an entrepreneur. "Especially right out of college. There's no better time."
Although Fipeo is not open to the public yet, the beta site is live and users have begun to form new connections. So far, it has attracted a couple thousand users in almost 100 countries and the feedback has been positive.
"As long as we are making forward progress and are growing at a consistent rate," Lucas said. "That's really what we're focused on, consistent growth."
Consistent growth is an understatement. In less than seven months, Houge and Lucas have formed a company, hired staff, formed partnerships, and secured several thousands in investments.
"It's been quite a roller coaster and honestly I don't know if I would have been up for it had we not done Semester at Sea," Lucas said.
Houge agrees, "Fipeo would not exist if it were not for Semester at Sea."
Join the rapidly growing Fipeo beta network at Fipeo.com