It's Official: If You Find A Ghanaian Mp On Top Of Your Wife ….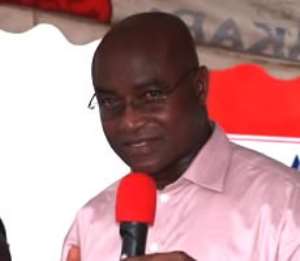 The other day, someone asked at this bar when a Ghanaian MP could be arrested. Typical of the way in which issues are discussed here, I could not get a clear answer from the ensuing discussion. Now however, the answer has been made apparent by the utterances of Osei Kyei Mensah Bonsu / Lawrence Addae. Here him:
"Minority leader, Osei Kyei Mensah Bonsu, who was also on the show explained the origin of the famous Article 117 which states "civil or criminal process coming from any court or place out of Parliament shall not be served on or executed in relation to the Speaker or Member or Clerk of Parliament whiles he is on his way to attending at or returning from any proceedings of Parliament".
According to him, the provision originated from the United Kingdom and was meant to protect MPs in the dispensation of their duties.
He explained that when an MP is arrested in the course of discharging Parliamentary business, the constituency he or she represents is denied participation in Parliament and to a larger extent, the people's right to vote on issues on the floor of Parliament is denied.
He added that "constituency business is Parliamentary business, so an MP who is in his constituency, meeting with the people cannot be arrested since he is meeting with the people he is representing, thus conducting parliamentary business".
Can you sense the self-serving principle he is stating here? " …. an MP who is in his constituency, meeting with the people cannot be arrested since he is meeting with the people he is representing, thus conducting parliamentary business" ! Recently, Kennedy Agyapong announced that he was in his constituency giving out desks to pupils in his constituency and not running away from the police. By Osei Kyei Mensah Bonsu's submission, Agyapong could spend all his parliamentary career in his constituency giving out desks, pencils, condoms, and so on, and he will be adjudged to be doing parliamentary business. That way, he gets to avoid arrest for as long as he remains a parliamentarian! Hard luck, this principle was not applied in the 8 years of NPP rule.
However, that self-serving principle, as egregious as it is, pales into insignificance if set against the deliberate distortion of the British Parliamentary system that gave rise to what has become the infamous Article 117. Those of you who are students of history would remember the power struggle between parliament and the sovereign during the reign of King James that eventually led to the signing of the Magna Carter. That provision was meant to advance the course of civil liberties by curtailing the power of an unelected monarch. It was never used to shield criminal activity by members of parliament. But see how dishonestly the educated Ghanaian is using a tool to protect the citizenry to his corrupt advantage?
So when can an MP in Ghana be arrested? Now I am convinced that Eric Amoateng would never have been arrested in Ghana! He could have been going to or coming from parliament. Yes, if you found your MP on top of your wife, he could be coming from or going to parliament and any action you take would be construed as interfering in the work of parliament! MPs engaged in gold scams could be going to or coming from parliament. Even Sekyi Hughes who carted away all household belongings from his official residence could claim at least he was coming from parliament! What is this? And they are so happy to cover themselves in such a morally filthy protective blanket! What a shame!!!
We have succeeded in tainting our democracy. What a pathetic lot we are!
We need to have that clause expunged from the Constitution urgently.