Reconstituted Board of Governors for Mfantsiman Girls Senior High School inaugurated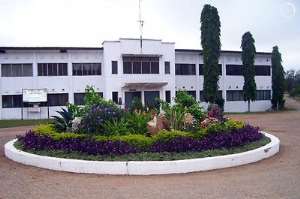 Saltpond (C/R), Feb. 22, GNA - Mr Kofi Sarfo Kantanka, Central Regional Director of Education on Tuesday said the Education Act 87 of 1961 which established Boards of Governors for the second cycle institutions set three years as a mandatory period for reconstitution, and cautioned Boards against the tendency to overstay the stipulated term of office .
He said no new ideas were brought into institutions whose Boards had overstayed their period and said the situation where some Boards of governors had existed for more than 10 years without reconstitution must cease.
Mr sarfo Kantanka sounded the caution when inaugurating the reconstituted Board of Governors for the Mfantsiman Girls Senior High School at Saltpond.
He said a Board member who performed well could be re-nominated by his or her organisation for another three-year term.
The Regional Director cautioned heads of schools against reconstituting their Boards with their favourites but must allow stakeholders to nominate their representatives.
He advised the heads of schools to consult their Boards on all major issues to avoid the "I don't know anything about it" syndrome from Board members.
Mr Sarfo Kantanka urged them to submit annual reports by the 31st of March to assist Regional Directors, Director-General and the Minister of Education in planning for effective education delivery.
He urged them to initiate policy guidelines for the school and bring their experiences to bear on the management of the School.
Mr Henry Kweku Hayfron, Mfantseman Municipal Chief Executive advised the new Board to be committed to the cause of the activities of the School to make it a centre of excellence.
He said the Assembly would do its best to solve the accommodation problem facing the tutors and also provide additional classrooms for the School.
Ms Charlotte A. Addo, headmistress of the school, enumerated the needs of the School which included classroom and staff accommodation, a generator, a library, and the documentation of the School's lands to avoid encroachment.
She commended the out-going Board for doing a good job to help the management of the school.
The Right Reverend Jeremiah Morrison, out-going Chairman of the Board said though they were out of the school's Board, it did not mean the end of their services to the School.
He said they would continue to offer advice to the new Board.
Madam Araba Neizer, a retired educationist and an old student of the School who chaired the function, advised the students to learn hard to ensure that they passed through the school rather than "the school passing through them".
GNA