Youth urged to avoid politicians who perpetuate violence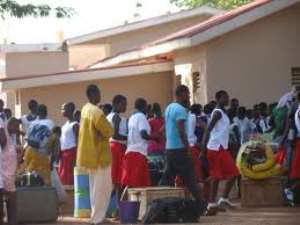 Bolgatanga (UE), Feb. 21, GNA – Mr Francis-Xavier Sosu, a motivational speaker has urged students not to allow politicians to use them to perpetuate violence in the forthcoming presidential and parliamentary elections.
He told the students that instead of succumbing to politician's demands and influences to engage in violent acts, they should consider first the peace that exists in the country in order to resist any attempt to be lured.
"We have only one Ghana and we cannot allow selfish politicians to lure us into violence during this year's election. All these orientation speeches would be meaningless if we don't reject selfish and power hungry politicians, who would like to use us to perpetuate violence".
Mr Sosu advised the students at the first ever public schools orientation tour held at the Bolgatanga Girls Senior High School in the Upper East Region under the theme: "education is the key to unlock all possibilities in life".
The tour, which attracted about 600 students from various schools, was also intended to imbue in them possible challenges in life, inspire hope and patriotism in them and self-confidence.
Mr Sosu commended government for supporting the project and said by executing it she was not only solving the infrastructural needs of schools but also instilling in the students a sense of purpose and direction.
He told the students that by making effort in their academic persuasions it provided them with opportunities to change their own lives from making the best out of their situations to more convenient ones. "Education is the only tool that brings the poor and the rich, powerful and weak to eat and dine on the same platform" he added.
Mr John Tia Akologu, a former Minister of Information in an address read for him, said government would not renege to develop the country's human resource for accelerated national development.
He noted that to successfully achieve this it called for critical attention to provide quality education to the youth.
Taking cognizance of the low morale and confidence in students in public schools, he said, the government had adopted a strategy to visit schools in the country under a programme: "Public Schools Orientation Tour" to inspire confidence in students and shape their focus in life through some selected sector ministries including the Ministry of information, the Ministry of Education, and the Ministry of Local Government and Rural Development.
Mr Akologu said through the Public School Orientation tour, government would intend alert the youth in the country that they were stakeholders in education and therefore they were required to take personal initiatives to achieve success regardless of the difficulties they might encounter in their academic pursuits.
He said government had put in a number of interventions to care for the needy children in deprived areas by providing over three million school uniforms and 40 million exercise books, expanded the school feeding programme nationwide as well replaced 4,320 schools under trees with constructed classroom blocks.
Mr Akologu said to show the level of commitment, government would pursue its policies to make education accessible to every child of school going age by 2016.
He said in less than four years, the NDC administration had provided 672 emergency classrooms and dormitories for Senior High Schools nationwide and intended to do more to cover underserved districts soon.
Mr Akologu called on all Municipal and District Assemblies and other players in education to support the Public Schools Orientation Tours to make it beneficial to students.
GNA