Attention drawn to similarity in PPP and CPP colours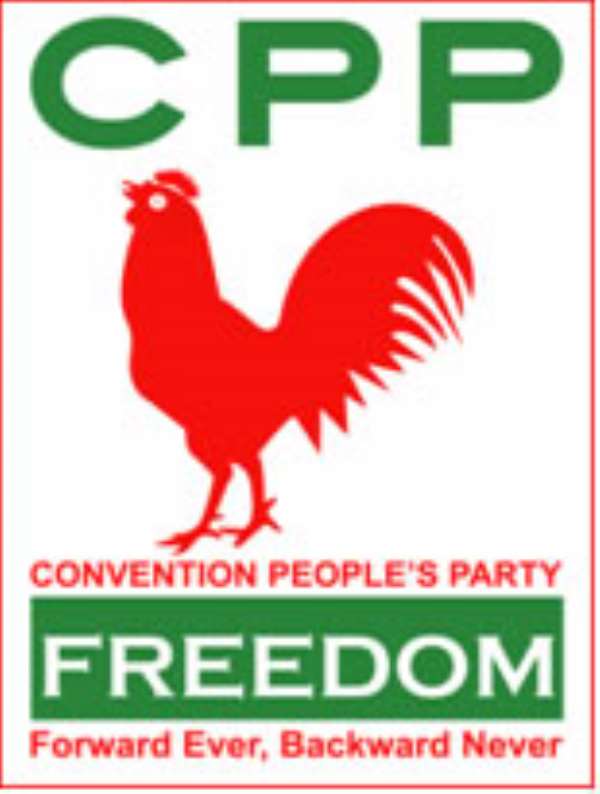 Ho, Jan 19, GNA - Mr Prince Ahiadzro, Volta Regional Chairman of the Convention People's Party (CPP), has asked its national executives to contend the "emblem of Dr Paa Kwesi Nduom's Progressive People's Party (PPP)."
He said the red and white colours of the PPP and the green, red and white colours of the CPP could create problems for voters.
Mr Ahiadzro, who was speaking at a gathering of CPP national, regional and Volta Regional constituency executives in Ho on Thursday, said: "even the abbreviations of the two parties, CPP and PPP, also sound similar " but added that the problems were not insurmountable.
He called for help from the National Secretariat to enable the CPP Regional Secretariat to organize the rest of constituency congresses.
Mr Ivor Greenstreet, CPP General-Secretary, asked the delegates from the constituencies, to come up with names of credible people that CPP could put up as parliamentary candidates in the upcoming elections.
He said in the coming months, the CPP would be transformed into a political party with greater relevance for the mass of the people and that would "resound through the whole of Ghana".
Miss Samia Yaba Nkrumah, Chairman of the CPP, said the present state of the party was an opportunity to rebuild it on commitment, total loyalty and sincerity, which were vital principles that party members must reflect on.
The CPP Chairman said she has the heart of a lioness, despite the fact that she look smallish, and that she would not relent until "we see an Nkrumahist-led Government in the country".
Miss Nkrumah called on CPP activists to leave by example, to be able to carry the rest of the country with them, and support the national executives with ideas.
She said the commitment that led to the winning of the Jomoro seat should be replicated in the rest of the country.
Miss Nkrumah, who is Member of Parliament (MP) for Jomoro and sole CPP parliamentarian, said she would contest and win the seat again.
Mr Kweku Oteng-Anane, CPP First National Vice-Chairperson, called on party supporters to be resolute and avoid being wooed by the PPP, the National Democratic Congress and the New Patriotic Party.
Mr Yaw Osafo, Chairman of the International Relations Committee of the CPP, announced that a new electronic data base had been crafted to accommodate names of all party members.
He said arrangements were being made with cellular phone network owners to contrive a way of dues payment through their systems.
Representatives from the constituencies briefed the national delegates on the situation on the ground including number of defections to the PPP so far.
GNA