The "wayo" in Alfred Agbesi Woyome tells it all (2)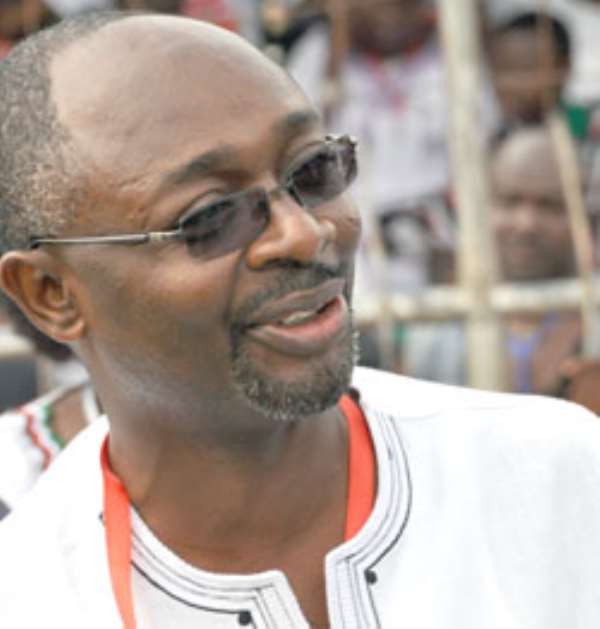 "When Obasanjo appointed Amos Adamu as Head of COJA, I told my friends that OBJ has sent a dog to guard a butcher's table". (Olabode Danjuma).When the story of the Gang of Three "Armed Robbers" first broke out, I knew the Presidency will give them a clean bill of health. And I think Chimaroke Nnamani, former Governor of Enugu State's description of Jim Nwobodo, aptly fits the wayo man "Here is a man who has spent his life taking away from society".
The Role of President Mills: I am flabbergasted at the utterances of the President on the issue. True to type, the President is not a man of principle. He has been inconsistently inconsistent on matters that borders on corruption. You remember the Muntaka's 'Chinchinga' issue? He instructed that the Chief Director and the Accountant at the Sports Ministry who 'blew the horn' should be sacked. He himself confessed that many people and companies had attempted to bribe him. He never mentioned names. While in opposition, Atta Mills had berated Kufuor for asking for evidence from whistle blowers before investigating corruption charges. He stated that if elected President, any allegations brought against any of his appointees even on the pages of newspapers would be vigorously investigated. But before investigations start, the accused would be asked to step aside. "Read my lips" said Prof Mills.
Is the President committed to making life better for Ghanaians? Oh, never talk about it! His association with people who don't think good of others has deadened the human instincts in him so much so that he has lost touch with reality and feels that he, like the Roman gods sits on Mount Olympus and any contact with ordinary Ghanaians would be an attempt to erode his demi-god status which he has erroneously arrogated to himself. That is why anytime he rides in his air-conditioned cars amongst a convoy of between fifty to sixty vehicles, he prefers not to look at the faces of miserable-looking Ghanaians which his obnoxious policies have reduced us to.
The President at times acts in a strange and bizarre manner when the destiny of the nation calls for firm and decisive action. For example, when Ghanaians expected him to act in a firm manner, like the Muntaka, the Asiedu Nketiah and the "Wayo"me cases, he puts on his kid gloves and started shadow boxing. But when it comes to innocuous remarks like Nana's "all die be die" mantra which is only a call to patriotic Ghanaians to protect the ballot boxes, the President puts the entire Ghana Armed Forces on Red Alert. And it is this President who chooses to wear a juju ring in place of his wedding ring, this President who has shown his utter disdain for a particular ethnic group by confiding in a foreign diplomat that the "particular Great ethnic project" is a great danger to him and should be checked. And true to it, he appointed as Chairman of Council of State a tribal warlord who also believes in the myopic agenda and wrote a book to denigrate the entire ethnic group. Who say man no day? Man dey!
In exonerating 'Wayo'me of all guilt, our Fumbling and wobbling President, who is yet to be credited with a single positive policy revealed his ugly side when he stated "If the court awarded the judgement or awarded the cost, whatever it is, it is a way of saying, the beneficiary is entitled to it (Five Hundred and Eighty Billion Cedis of the poor peoples money). The targets are those whose actions or inactions may have resulted in the beneficiaries of various judgement debts dragging the state to courts in the first place".
'Eeii, e bei, baani!', Am I hearing right? Is it true my President said that? Where, apart from Mills Ghana, would you hear such a 'contemptuous' statement from a sitting President? Not even Samuel Kanyon Doe or Idi Amin would have made such a reckless statement! And these dictators were unlettered and came to power several years ahead of this President!
The President's utterance is obviously a political decision to impute wrong doing on the part of the out gone NPP administration, whilst giving an 'all clear' signal to the 'villain /armed robber' and his evil collaborators for stealing such colossal sum of the poor, hard-working, impoverished and mal-nourished Ghanaians money.
If we were to dig into the archives, what explanations would our fumbling and wobbling President have for instructing the Ministry of Energy to abrogate a contract in 2009 which had been ratified by Parliament in 2008 thereby resulting in judgement debt to the nation? What work did the wayo of a man do to deprive Ghanaians of such an 'opepepeepe-peepee-peepee? Did the President, as well as his political atavists and cabal of nation wreckers think about the repercussions of their reckless and unmeritorious actions on the future of the Ghanaian child before taking that unwise decision?
What will the President say if those who won tender bids but had their documents seized and destroyed by unruly foot soldiers of the NDC took the case to court? What about the cancellation of ex-gratia for former Presidents, their Vice as well as MPs, D/MCE's and the appointment of the Ishmael Yamson's Committee to review their emoluments? The retiring package had been ratified by the ougone Parliament, yet he abrogated it! You see this President! What offence, what crime have Ghanaians committed to be saddled with this extra-baggage of a President whose every action is in essence the surest way to "Golgotha?"
Now, come to think of it. The holier than thou attitude of our President, who appears to be the only stranger in Jerusalem(to have emerged from outer space) is not what Ghanaians asked for when they elected him President. They need a strong, firm, but caring, moral and decisive Commander-in-Chief who will not prevaricate when it comes to decision making.
By ordering an investigation into the whole 'wayo'me episode, is the President not playing to the gallery? Is he telling us he was unaware of the payment of such an opepepeepee-peepee-peepee to this 'villain'? If he claims ignorance of this shoddy deal by the gang of three, then Ghanaians are in for a very big trouble and we cannot sleep with even one of our eyes closed. It means we have to be eternally vigilant by not sleeping at all. Did Cabinet give approval before the amount was paid? I think they did and that is why the Napoleons and the Squealers have not come out to support the dastardly crime committed against Ghanaians.
From where did our Fumbling and wobbling President and the Nefarious Drugs Congress get money to pay such "whimsical', "capricious" and "huhundous" amount of money to the 'armed robbers' who chose to rob us with the pen? Sometime ago, we were told that Government had no money to pay salaries and allowances of Ministers and their Deputies. Are they telling us that they used part of contracted loans to pay 'wayo'me? We cannot rule out that possibility. After all, in the NDC, strange and bizarre things do happen. Did they not use part of contracted loans to 'pay off' the so-called TOR Debts?
If the President wants Ghanaians to take him serious, then he must do what he has sworn to do. Dr Nkrumah cracked the whips on his Ministers. When Krobo Edusei bought himself a golden bed, he confiscated the bed from him. When it came to his attention that the DC for Oda, Kwame Kwakye had defrauded a Nigerian resident at Takrowasi of some money which the latter had won in a pool (Eighty Two Thousand Cedis), the President relieved him of his appointment and ordered his immediate prosecution which resulted in his conviction and sentencing.
The President must crack the whip on Kwabena Dufuor and Betty Mould Iddrissu. He should fire the two or in the interim ask them to step aside whilst investigations are carried out. He should instruct his Attorney General to file an appeal against the judgement. Again, the court should file contempt charges against the "Gang of Three" for flouting its order that the 'villain' be paid one third of the 'negotiated stolen money'
I challenge the President to come out with the whole truth otherwise he should bow down his head in shame and renounce the accolade of "Asomdwehene" and "a Christian of high moral principles" - titles which he and his sycophants have arrogantly, erroneously and blasphemously arrogated to himself.
A good one there, Nana Asante Bediatuo: The sycophants and devotees of the President have portrayed him as a clever and knowledgeable person, well versed in legal matters. But if what Constitutional Lawyer, Asante Bediatuo says is anything to go by, then I have strong reservations about the much touted academic and professional credentials his cheer-leaders have heaped on him.
According to the Constitutional Lawyer, 'Wayo'me claim gives 2001 as the period during which his claim arose. But he sued in 2010. But the Law in Ghana is that one cannot bring a claim based on a contract six years after the claim accrued. If this is the issue, I am surprised our Fumbling and Wobbling President aka, Baba Go Slow did not realize that the action of the 'pen armed robber' was defective in nature and not in consonance with the laws of the country.
Secondly, Nana Asante Bediatuo makes allusion to the fact that the company that the 'villain' and 'armed robber' Alfred 'wayo'me is fronting for has already been paid.
The President is a hypocrite like the Pharisees: The most surprising thing is that adherents, stooges, devotees and cheer-leaders of the President tout him as a Christian of the first order. I wish he were something different. The Bible admonishes us not to judge others but Jesus Christ tells us that we shall know them by their fruits. I do not profess to be righteous but I am not the President. We have been taught to believe that Ananias was the greatest liar in the World, but having lived through Mills' Bitter Ghana Agenda, watched him at close quarters and listened to his utterances, I think we owe Ananias a post- humous apology.
If the President could come out with such reckless statements, then there is a threat to the economic survival of the citizens over which he shepherds. I also think there is something seriously wrong with his Christianity. And if Christians and Muslims alike would keep quiet whilst such blasphemous acts are committed almost on daily basis, then, there is something seriously wrong with the Christianity and Islam which are practised in the country.
What are Christians and Moslems saying about this open display of arrogance and complete disregard to the teachings of God as expounded by both Jesus Christ and Mohammed? What about the Clergy, the Christian Council, the Catholic Bishop Council, the Pentecostal Council, the Islamic Council and the Council of Ahmadiya Movement? What are they doing or saying? They should speak up or forever remain silent!
Are they afraid of being labeled anti-government Clergy and so prefer to keep quiet? Just because notorious Satanists like Asiedu Nketiah lambasted the Catholic Bishop Conference for advising Government to make verification part of the electoral process in 2012, they now prefer to remain in their various fiefs? What then is the role of the Church in affairs of the country? The Prophets in the Holy Books were not cowards. Elijah stood against the 450 priests of the Baals. He openly rebuked King Ahab and his wife Jezebel. And so were other prophets.
The time has come for the Clergy to call the President and his Government to order. Has the President not caused financial loss to the country when he instituted a probe whose outcome he has already pre-judged by giving the all-clear sign to 'wayo'me? The freezing of 'wayo' me's bank accounts is an exercise in futility. He was advised to withdraw the bulk of the money from the account before the 'order' was given.
Mr. President, imagine you are standing before Almighty God. What responses will you give to his questions? Have you treated the people entrusted into your care as you were supposed to or would you rather be Rehobeam who threatened to use scorpions to whip the people? Are you truly "Asomdwehene" and who gave you that title? Did you look the other way as your men fell upon themselves to loot, rape and 'appropriate' what did not rightly belong to them? God is asking you. Have you done any of these? Yes or no?
What do you want to go back to the Castle for? Are deliberately going to leave something behind so that you could get an excuse to go back for it? What is it that you want to achieve that you cannot do in Four Years? The problems you came to meet have not been solved. You have added more to them and they are 'swallowing you up'. There is palpable fear in the country – the fear of the unknown. Above all, you, President Mills and your Narcotics Drugs Congress are engulfed by the Fear of Truth
Would you, President Mills like to go down in history and act like Eli whose two sons brought the priesthood (presidency) into opprobrium? Or you would rather be Saul who, when instructed by God to destroy Amalek and all they had, he spared Ahag, their King and the best of the sheep, oxen, the fatlings, the lambs and all that was good? Have you done any of these? Would you look God in the face and tell Him, "Baba God, I have done all that you asked me to do?" God is asking. The people are asking. The World is asking. Yes or No?"
Daniel Danquah Damptey (0243715297) ([email protected])