7 Suspected Gushiegu Killers For Court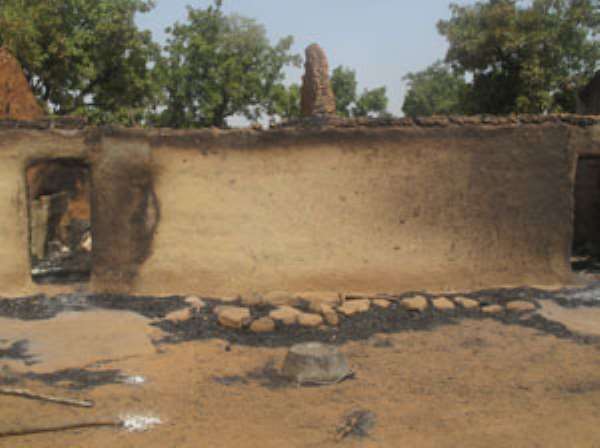 The burnt building at Gushiegu
POLICE HAVE confirmed the arrest of seven persons for their alleged roles in the attacks and burning down of houses belonging to Fulanis in settler communities In Gushiegu and Waduli, all in the Northern Region.
Over 13 persons were killed after some Konkombas invaded their abode, with the some of the people being burnt to ashes.   
While Blingnaba Chesei, Akwasi Chesei and Bawa Chesei are being held for arson, Abdulai Maabi and Ntiegmabu Nbeyabu alias Kabonaa are in detention for murder.  
Simon Noajam and Maabi Gnanikum, who played lead roles in the scramble for cattle and sheep of runaway Fulani herdsmen, were arrested for stealing.  
The Northern Regional Crime Officer of the Ghana Police Service, DSP Mahama Arhin, who confirmed the arrests to DAILY GUIDE , disclosed that some of the suspects would be tried in Yendi while the rest would be tried in Tamale.  
According to him, James Neina Waja, a prime suspect in the Waduli arsons, was still on the run and being hunted by the police to assist in investigations.  
The 7 would be arraigned for various charges ranging from causing damage to murder, when investigations were duly complete, the police chief disclosed.  
Late last week, a Tamale Circuit Court remanded 27-year-old Mabei Inafabel Ebenezer into prison custody to reappear on Thursday.  
He was alleged to have conspired with his colleagues to cause arson in three Fulani settlements around Waduli, near Saboba, and went into hiding at Wapuli. 
 It would be recalled that a fortnight ago, some Fulanis around Gushiegu and its environs were attacked and their homes burnt by persons believed to be of Konkomba extraction, leading to the death of 13.
The dead included three children who were set ablaze by their assailants after their parents abandoned them in the heat of the attack.
The injured were treated and discharged, with some deciding to go back to their hometown following reports of fresh attacks.
But soon after the Fulanis fled their communities, the Konkombas directed their arsenals against each other over who had the right to own the properties of the aliens. 
The mad rush for these properties by two opposing communities led to fatalities in two communities, Junjong 1 and 2, and the burning down of two houses. 
Fulanis who fled the area for fear of recurring attacks are currently seeking refuge at the Disabled Resource Centre in Gushiegu while their animals have been left behind.  
Security, according to the Northern Regional Police Command, had been boosted in the area to avert any further attacks which were likely to degenerate into an ethnic conflict.
 From Stephen Zoure, Tamale