Womens Aglow holds National Thanksgiving Service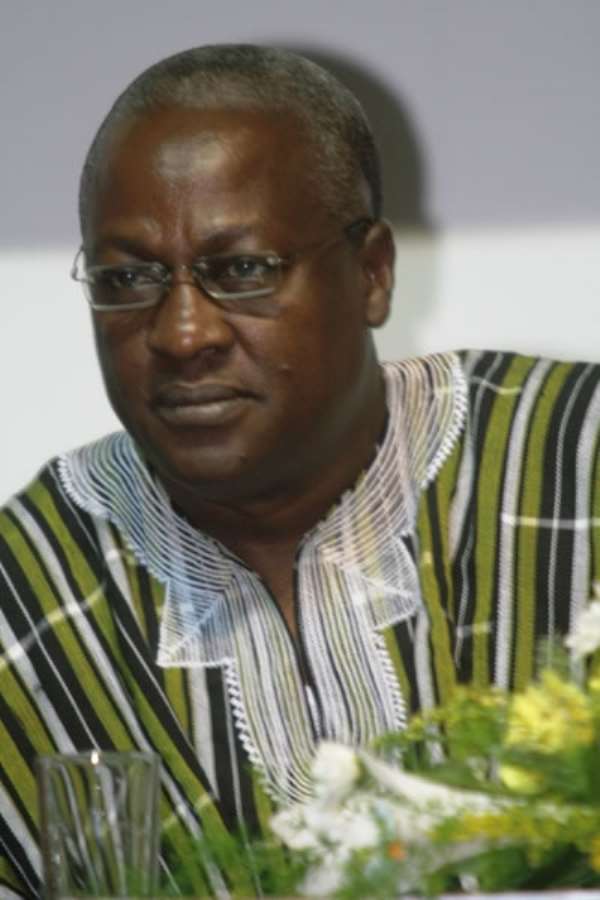 Accra, Dec. 17, GNA - Vice President John Dramani Mahama at the weekend acknowledged the hand of God as the divine force in steering Ghana through the numerous challenges witnessed in the fourth Republic.
He asked Ghanaians not take the favour of the Lord for granted and allow their political and religious differences to divide the nation.
Vice President Mahama made this known when addressing a National Thanksgiving Service of Women's Aglow Ministry, a non-denominational church service in Accra.
Vice President Mahama predicted that Ghana is going to have successful elections in 2012 and that God would decide who should be the leader.
He acknowledged the tremendous prayer and support of members of the Ministry for Ghana and her leaders over the years.
Vice President Mahama said the massive mobilisation of women across the nation and the sustainability of their prayer sessions were symbolic of the unity that exist within and among the diverse section of the society.
He said the leadership of the country needs fervent prayers in order to obtain the guidance and favour of God to initiate and implement the right kind of policies, as well as proper governance for national development.
Vice President Mahama asked for special prayers for the safe arrival of President John Evans Atta-Mills back home.
The President is currently on vacation in the US.
The Service, which was the last in the year, brought together members from all over the country to celebrate the goodness of God and offer their thanksgiving in various forms.
The service was characterised by song ministration by the Aglow Tambourine Mass Choir, regional appellations, Fontomfrom appellations as well as regional presentation of food stuff (first fruits) to be donated to charity.
Prayers and prophetic declarations were also made over the nation for 2012.
Mrs Dorothy Danso, Aglow National President, said God has been gracious to Ghana throughout the year and celebrating "this goodness" was very accurate to show how appreciative the country was to such kindness.
She explained that the Ministry devout the third Saturday of every month for prayers towards peace, protection, unity and national development.
Mrs Danso noted that Ghana has been blessed abundantly with surface, underground as well as rich human resources, which had earned the country an enviable position on the globe.
She recounted the numerous conflicts among neighbouring nations which had left most of their people orphaned and in distress, saying Ghana must therefore be grateful to God for His protection and mercies throughout the year.
Mrs Danso however admonished Ghanaians to work at sustaining the current peace and progress being enjoyed especially with the commencement of the gas and oil industry.
"We must pray to the Almighty God to sustain this peace and unity and further bless this country to uncover its hidden wealth and her people to love one another just as Christ Jesus admonished the church to do, to enhance prosperity and development," she said.
GNA