Irate youth in New Takoradi blocked main road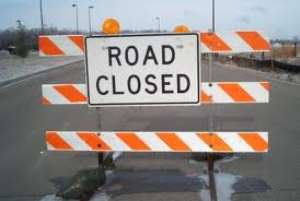 New Takoradi (W/R), Nov.29, GNA — Some youth in New Takoradi in the Sekondi-Takoradi Metropolis on Tuesday blocked the main road leading to the town.
According to the youth, the road had deteriorated because of the heavy haulage trucks that convey manganese, bauxite, flour and cement products to some companies located in the area.
The youth burnt car tyres to deter drivers from using the road, arguing that about six months ago the Sekondi-Takoradi Metropolitan Assembly promised to construct the road before October but this had not been done.
Some policemen moved in to restore order and had to fire warning shots to restore calm.
The Sekondi-Takoradi Metropolitan Chief Executive, Captain Anthony Richard Cudjoe (rtd), said he had engaged the youth on several occasions to assure them of the government's commitment to tar the road.
He stated that, he had engaged the Minister of Roads and Transport and other agencies responsible for road construction on how best they could bituminize the road and appealed to them to exercise restraint.
Some of the companies located in the New Takoradi industrial enclave include Takoradi Four Mills, GHACEM, Ghana Manganese, and Ghana Bauxite while some oil companies had their warehouses located there.
GNA