Death Toll In Tamale Accident Now 28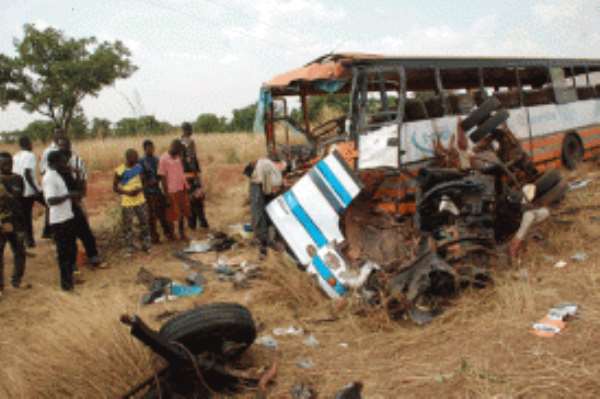 The death toll in the Tamale-Bolgatanga highway accident has now risen to 28. Forty-eight victims have so far been treated and discharged from the Tamale Teaching Hospital while 14 are still on admission.
It has also been established by the Motor Traffic and Transport Unit (MTTU) of the Ghana Police Service that the accident was as a result of wrongful overtaking by the mate of the Benz bus driver and not the driver himself.
According to the Northern Regional Commander of the MTTU, DSP Cashman Blewushie, the driver of the Benz bus in which all the passengers perished might have been tired and, therefore, handed over the steering wheel to his inexperienced mate.
Both drivers of the two vehicles and the Benz bus driver's mate were among the deceased whose bodies were deposited at the TTH last Saturday.
The accident occurred last Saturday at Pong-Tamale, near Savelugu in the Northern Region, when a Metro-Mass Transport bus and a Benz bus with the registration numbers AS 9905 Y and AS 7510 F respectively collided.
While the Metro bus was travelling from Bolgatanga to Tamale, the Benz bus was on its way from Kumasi to Bolgatanga.
The Commander attributed the frequent accidents on the highway to human error such as speeding, inexperienced driving and lack of vehicle maintenance.
He, however, gave the assurance that the police, in conjunction with other stakeholders were stepping up their educational campaigns on safe driving, especially with the approach of Christmas.