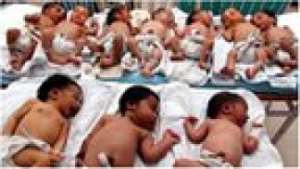 The Tamale Teaching Hospital (TTH) recorded 11 births in the early hours of Monday, October 31, 2011 as the world's population is expected to hit the seven billion figure today.
Six male and five female babies were born through normal deliveries without any complications, Dr Patrick Adike, House Officer at the TTH told the Ghana News Agency (GNA) in an interview in Tamale.
He said the trend of population growth yearly at the hospital increased from 7, 000 in 2010 to about 7,500 in 2011. "Currently, the total number of births between January and September 2011 is about 6, 000", he said.
Dr Adike said the hospital was congested and lacked good equipment to work with, particularly at the labour ward.
He observed that the increase in the world's population had both negative and positive impact on social amenities, health facilities and natural resources, especially in developing countries such as Ghana.
Ms Mariam Iddrisu of the United Nations Fund for Population Activities (UNFPA) Gender Office who also spoke to the GNA, said the commemoration of World Population Day aimed at building global awareness around the opportunities and challenges associated with a world of seven billion people.
She said it was also to inspire governments, NGOs, private sector, media, academia and individuals to take actions that will have a socially positive impact.
A statement copied to the Ghana News Agency Monday by the UNFPA indicated that the way nations responded to the growing population would determine whether countries had a healthy, sustainable and prosperous future or one that was marked by inequalities, environmental decline and economic setbacks.
Advertisement

"With planning and the right investments in people to empower them to make choices that are not only good for themselves, but also for our global commons, our world of 7 billion can have thriving sustainable cities, productive labour forces that fuel economies, and youth populations that contribute to the well-being of their societies," said UNFPA Executive Director, Dr. Babatunde Osotimehin.
He added that the 7 billion milestones was a challenge, an opportunity and a call to action.
Dr. Osotimehin said of the world's 7 billion, 1.8 billion were young people between the ages of 10 and 24, adding that "Young people hold the key to the future, with the potential to transform the global political landscape and to propel economies through their creativity and capacities for innovation. But the opportunity to realize the youth's great potential must be seized now."
He stressed the need to invest in the health and education of the youth to yield enormous returns in economic growth and development for generations to come.
GNA