9 October 2011
|
Regional News
ANNUAL NGMAYEM FESTIVAL DODOWA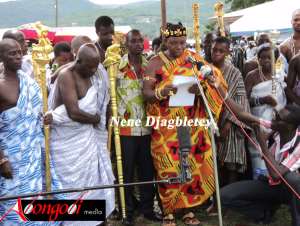 The Ayikuma Mantse, Nene Nornor Sordje v, has appealed to the ruling government to set up education fund or possible scholarship scheme for brilliant but needy children in the shai state.
He said that the district needs basic amenities and resources such as potable water, schools and good road networks.
He was speaking at the annual Dodowa ngmayem festival.
Ngmayem which literally means hooting at hunger is celebrated on the last Saturday in September or first Saturday in October by the people of Dodowa.
The festival is about a severe famine which hit the forefathers of Shai. The famine lasted for seven years and in the eighth year there was an abundance of food. The people therefore decided to come together to celebrate the abundance of food in a joyful manner.
This has since been the annual traditional harvest and thanksgiving festival of the people of Shai-States.
The colourful ceremony which attracted a cream of shai citizens was crowned with poetry recitals and other displays from Klama, Obunu groups, as well a brass band which thrilled the audience with their rhythmic songs.
In a speech read on behalf of all the chiefs of Shai state, the Ayikuma mantse, Nene Normor Sordje v, expressed worry about the non existence of jobs in the district, this he said has left the youth idling about and engaging in diverse social vices.
The Shai traditional area has tourist sites that needs to be developed, and we are willing to render our fullest support to the government and any developer who wishes to embark on any developmental project in the district ''says the Ayikuma mantse''.
The District Chief Executive (DCE) for Dangme West district assembly, Hon. Emmanuel .Odoi Lartey said the Dangme west assembly has opened its doors to investors and citizens both home and abroad for any assistance geared towards development.
In a good will message from the president, the Greater Accra Regional Minister Nii Armah Ashitey promised the people that government will deliver on his better Ghana agenda but urged them to amicably settle all chieftaincy disputes and unite for development.
He presented GH¢2,000 cash and assorted drinks to the Dodowa Traditional Council to support the celebration of the Ngmayem festival.
Receiving the gifts, the Dodowa Nmbese asafotse, Okukrubuo tei kwesi agyman urged families to resolve their conflicts to foster development in the community stressing the need for unity, love and togetherness which is important for the onward movement of the community.
The queen mother of Shai Ologotsowe Nana Sabina Ayengoe Ahwah I, later presented text books, learning materials and cash prizes to six brilliant children from selected schools in the Dangbe west district, who can fluently read and write Dangme.
The annual commitment which is by courtesy of Abongobi Music Club Switzerland and the GaDangme Europe Association, is aimed at inciting the learning desire of students in the community as well as encourage the youth to prioritise education in the district.
A REPORT BY
Naa Dedei Hammond.
Accra.
Photo by Nii Annan Ammah