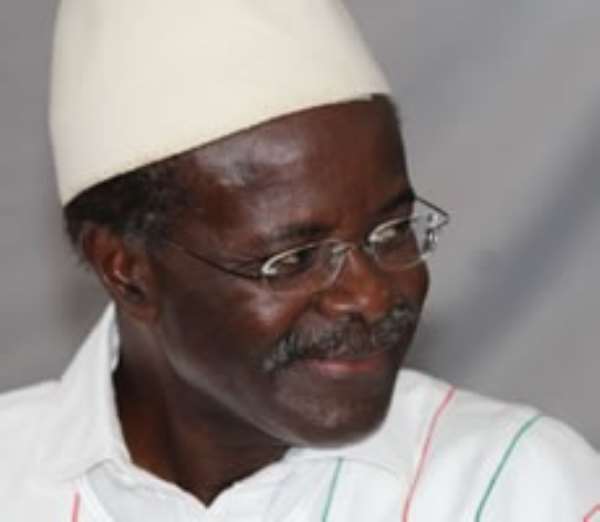 Dr. Paa Kwesi Nduom is demanding clarification from Mr Greenstreet
The 2008 flagbearer of the Convention People's Party (CPP), Dr. Paa Kwesi Nduom is challenging the party's General Secretary Ivor Greenstreet to come out publicly to deny or confirm damaging comments on Dr Nduom attributed to Mr. Greenstreet in the wikileaks diplomatic cables.
Dr. Nduom who addressed a press conference on Thursday said he is concerned about the comments in the leaked U.S. cables because they have the potential to affect his local and international credibility.
"I want Mr Greenstreet to clear the air as soon as possible, so that he and I can have a productive relationship, a good relationship that would inure to the benefit of the Convention People's Party."
Mr Greenstreet is reported in the leaked US diplomatic cables to have said that Dr. Nduom misrepresented and faked himself as a citizen American.
He also alleged that Dr Nduom was dishonest and paid delegates to win the party's flagbearship.
The CPP's General Secretary is alleged to have also said among others that during the 2008 electioneering campaign, Dr Nduom sidelined the party's structures, which he attributed to its abysmal performance in that elections.
Though Dr Paa Kwesi Nduom has denied the allegations, he said he has sent an e-mail to Mr Greensteet to come out on it for the sake of his (Nduom's) "personal integrity" so that they can put the matter behind them.
"If he says I didn't say it, if he says they misinterpreted his words, or he says he didn't mean it, I will accept. I want people who have read those words to know and understand that I am not the person that is being described and has been described in those Wikileaks reports."

Story by Myjoyonline.com/Joy News/Ghana