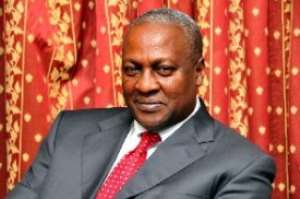 Vice-President John Dramani Mahama
The Vice-President, Mr John Dramani Mahama, has called on West African countries to use the African Women's Decade to develop strategic action plans to be implemented to achieve some quick gains for women.
He said the dedication of the period 2010 to 2020 as the Decade for African Women was to ensure that there would be real strategic changes in the lives of women to positively impact on societies and pointed out that there was the need to sustain gender equality responses to eventually lead to real changes in development outcomes.
The Vice-President made the statement in an address read on his behalf at the opening of the UN Women High Level Symposium on "Sustaining Gender Equality Responses in the Economic Community of West African States (ECOWAS) zone" in Accra on Tuesday.
The meeting aims at addressing gender equality from a planning and budgeting perspective to reinforce the outcomes of the Beijing Platform for Action, as well as the objective of the high level forum on aid effectiveness.
He said governments all over the world had demonstrated a commitment to promote gender equality in all sectors of society by signing and adopting various international, continental, regional and national treaties.
Mr Mahama said although Ghana had been lauded for working towards achieving the Millennium Development Goals (MDGs), it still had a long way to go in reducing infant mortality and improving maternal health, adding that despite the efforts made by the government to promote gender equality, there were several challenges that prevented the sustainability of those efforts in Ghana and the West African sub-region as a whole.
He said that included the relatively low participation of women in politics, economic governance structures and in particular the productive industry, including the agricultural sector.
He said while Ghana received a significant amount of international aid for development issues, there was still a critical need for aid targeted at gender issues, particularly as the Ministry of Women and Children's Affairs (MOWAC) continued to seek funding to effectively implement its programmes and co-ordinate with other entities.
Dr Adrienne Diop, the Commissioner of Human Development and Gender of the ECOWAS Commission, said there was the need for institutional capacity building to support gender mainstreaming and for strengthening co-ordination mechanisms to promote dialogue and co-operation among major stakeholders in the ECOWAS region.
She said no country, institution or region could achieve gender equality and women empowerment without a collective, concerted and co-ordinated effort.
According to Dr Diop, Article 63 of the revised ECOWAS Treaty on Women and Development set out the strong mandate to the ECOWAS Commission for gender equality, which encouraged the formulation, harmonisation, co-ordination and establishment of appropriate policies and mechanisms for the enhancement of the economic, social and cultural conditions of women.
Earlier in a welcoming address, the Minister of Women and Children's Affairs, Mrs Juliana Azumah-Mensah, said several ECOWAS countries ranked among the lowest in the world in relation to UN Women's Gender index on gender equality.
She said gender responsive planning and budgeting was critical to Africa's food security, human development and economic potential and pointed out that plans and funding would need to be better targeted to ensure that the nations began to empower women.