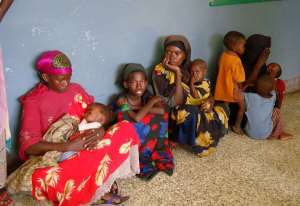 ADDIS ABABA (AFP) - The African Union says it will host a donors conference for Somali drought victims here on August 9.
"I ask the African continent...to look hard at how they can contribute to alleviating the suffering," Erastus Mwencha, the deputy chair of the African Union, said in a statement released Friday.
"Around the globe, everyone must dig deep into their pockets to rescue the people of Somalia from the abyss they find themselves staring into," he added during a one-day visit to Somalia's war-torn capital Mogadishu.
The conference is to bring together African heads of state, members of regional economic blocs and international organizations .
The AU has donated $500,000 to address the crisis in the Horn of Africa. But the United Nations on Friday said a total of $2.48 billion was required in order to reach those suffering in the region.
Somalia is the worst-affected country, with some 1.25 million children in need of urgent life saving care, according to UNICEF. This month, the UN declared famine in two areas of the country, the first time famine has been announced this century.
The AU's representative for Somalia, Jerry Rawlings, visited Somalia earlier this month, prompting him to call on African countries to provide more support.
"This is not a time for second thoughts, or any hesitation. Not for more than twenty years has the continent faced such a catastrophe of food shortages that we are seeing today in the Horn of Africa," Rawlings, a former Ghanaian president, then said.
Ongoing violence between Somalia's Islamist al-Shebab militants and pro-government troops has exacerbated the food crisis.
On Friday, fighting broke out in Mogadishu, killing three African Union troops whose bodies were dragged through the streets, according to witnesses.
© 2011 AFP