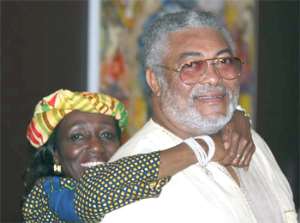 "Margaret Thatcher wasn't of my politics, obviously, but I remember my dad was a really strong conservative and in the 1970s, I remember him telling me, 'there is no way the British people are going to elect a woman as Prime Minister'. She won three elections. "People are less prejudiced than you ever think they are, they're more sensible and more modern and more understanding and it should be the best person for the job, irrespective of race, irrespective of gender, irrespective of anything else." - Tony Blair.
Women are more than half the population of Ghana. So it perfectly makes sense to have a woman at the top executive job - it is democratic. And not just Nana Konadu Agyeman-Rawlings as Commander-In-Chief, but more women into top civil service jobs.
Aside the fact this, Konadu Agyeman Rawlings is as qualified as any politician - male or female to lead the country. Her winning the ruling party's primaries would be a very good thing for our women, for equality and for our democracy.
A lot of women shy away from high ranking competition with men. The fact that the former First Lady is challenging a sitting President proves her toughness and decisiveness required for executive position like that of President.
I have been intrigued by the reasons a few detractors in the media have put up against her. Their argument, is not about whether or not she will be a good President, No. They are saying she should not run because she is the wife of a former President. How disingenuous!
Where in the constitution of the Republic of Ghana or that of the NDC, does it say that a woman cannot be president if her husband has been there before? And how could people ask her not to run when every credible survey indicates that the sitting President will lose the next election if he is candidate of the NDC?
There are enormous benefits of living history at Jerry Rawlings' side for several years, but "Nana Konadu is a woman of substance on her own."
Some have even said she is too ambitious and that they don't like that. Are these folks seriously suggesting that it is OK for a man, like - Addo Kufour, Nana Ado, Kwesi Awhoi, John Mahama or Alan K - to have ambitions but not for a woman? Can anyone name any serious politician who isn't ambitious? The absence of ambition in politics is a recipe for failure.
It makes one wonder, if such school yard innuendos, are the worse things they could say about a woman whose life has been put under every magnifying glass every journalist in Ghana could find. What a deceptive way to judge Nana Konadu Agyeman-Rawlings!
Others have said she can't be president because she has enemies. The fact that a small band of vociferous journalists hate her doesn't mean she should run away from trying to do something good for her country.
They talk about a young man who was manhandled by an over-zealous security detail. The question is, how many parents - Muslims and true Christians alike, would not be upset about a young boy trying to corrupt their daughter?
We have situations where girls have been raped or abused by their so-called boyfriends. Every parent has a duty to protect their children, especially their teenage daughters.
Many people may disagree with how the over-zealous soldiers treated Master Selassie Gyentu, or Konadu Agyeman's subsequent response to the incident. I respect their right to disagree with the method, but it does not take away the fundamental moral obligation of every parent to protect their daughters from misguided boys. We must understand that the former First Lady is a Catholic.
If you pray to God as Konadu Agyeman-Rawlings does, if you have never left the church, you would know that it is not only immoral but irresponsible for a parent to encourage this boyfriend-girlfriend twaddle.
Thank God her daughters have turned out fine and better than the daughters of her critics. Their daughters and sons (the critics) have been wild and crazy and had many boyfriends or girlfriends.
Asking people not to consider voting for Konadu Agyeman not based on what she'd done in the last thirty-two years of work but what she is alleged to have done some fifteen or so years ago is warped bias of the worse kind.
If there is evidence of corruption to find on her, I bet some of these misguided politicians parading as journalists would have found it already. There is simply no smoking gun; the attacks and regurgitated reports from this small band of journalists are quite stale and boring.
Nana Konadu Agyeman Rawlings was persuaded with deep reluctance to step into the race for the leadership of the party. As she aptly put it in a recent interview - "you should know that the easiest thing for me would have been to stay aloof and join the chorus boys" but certainly there is work to do for mother Ghana - The country is hungry for leadership.
The small group of detractors in the media, have relentlessly thrown mud at her, but she is unfazed. These journalists and their sponsors have had more than 20years to prove that Konadu Agyeman-Rawlings or her husband are corrupt but have failed. They have never proven her culpability in the "Scancem agreement." All we have been subjected to from these squalid little rags we call newspapers, are rehashed and regurgitated investigations that were closed more than twenty years ago.
These Journalists are afraid that, contrary to their vilification, Ghanaians will see a woman who is genuine, knowledgeable, smart and appealing if they do not blunt her side of the story or twist the facts to suit their agenda.
The truth is, she will make a big difference for all of us, boys and girls, women and men, rich and poor - everyone will benefit from her presidency.
The country doesn't just need a leader who can renew and re-energise the ruling party or make us feel good about ourselves. We need one who is also capable of delivering hard truths to the NDC when required.
Her breadth of leadership skills and experience, combined with her clear vision of where she wants to take the NDC and Ghana also, give the NDC its best chance of winning the next general election.
Comparatively, Nana Konadu Agyeman-Rawlings appeals more to young voters, women, the business community and the base of the NDC than the President. She is on her way to doing the impossible and we must give her enormous credit for that.
The President, John Mills has his strengths too, does he? Well, choosing him as the NDC's candidate in the next election will be like putting the soil on NDC's grave. President Mills' style of running the country makes building a bungalow today slower than building a cathedral in the 11th century. It is painfully slow and there is no storyline that will get the country turning to him again.
Nana Konadu Agyeman-Rawlings is promising an exciting new path for her county and party. Unlike her challenger who is not hearing what Ghanaians and his party are worried about, she will listen the injured voices, the anxious voices that have despaired of being heard. She will listen to those who have been left out and try to bring them in, and those that are left behind, she will help them catch up.
Nana Konadu has demonstrated she has the courage and steeliness to take risks and adopt uncomfortable positions. That is one of the many things missing in our current leader.
She will restore the lost public trust in politics, promote job growth and do the things that President Mills has ducked.
Delegates must be bold and vote overwhelmingly for her. A win for Konadu Agyeman-Rawlings will be a win for the country. Perish the thought, if Mills wins, Ghana loses - it would be a setback for women, a failure, a rejection not only of Nana Konadu but of everything women stand for.
On delegates depend the fortunes of the NDC and Ghana. They are to decide the important question on which rests the progress, happiness and unity of our party and country.
They are to decide the happiness and liberty of millions yet unborn. If they do the wrong thing, you betray the memory of those who have given so much. It is their right and responsibility to determine who leads our party. I pray they act worthy of themselves.
RAS MUBARAK
skype.com/ras.mubarak