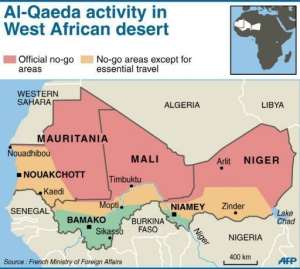 A map of Al-Qaeda activity in the West African desert. By (AFP/Graphic)
NOUAKCHOTT (AFP) - Mauritanian troops killed 15 members of Al-Qaeda in the Islamic Maghreb (AQIM) in a recent battle over the border in Mali, losing two of their own men, senior army officers said Sunday.
"The toll is 15 dead among the criminals, two dead and five wounded on the Mauritanian side," the officers told reporters.
The raid was on a camp inside a forest 110 kilometres (70 miles) from the border with Mauritania, Colonel Brahim Vall Ould Chebani, head of the general staff's operations bureau, and army spokesman Colonel Teyeb Ould Brahim said.
According to the two colonels, the camp was completely destroyed, calling it "a rout, every man for himself, on their side."
Their forces were still combing the forest, searching for the surviving AQIM fighters, they added.
They described the AQIM base as having been converted into a fortress, protected by deep trenches and landmines all around, which posed "a real threat to our country."
"We went to find them, we found them and we have totally destroyed them."
Malian troops meanwhile reported the capture of nine suspected AQIM fighters early Sunday, a military source said, as they continued their joint operation with Mauritanian troops there.
They were captured near the forest in Wagadou, the source said, adding that six of those detained were Mauritanian and three were ethnic Fulanis of unknown nationality.
Mauritanian troops, supported by colleagues from Mali, moved in ahead of the operation and surrounded the forest where the AQIM fighters were still thought to be entrenched, Mauritanian sources said.
Mauritanian warplanes were flying reconnaissance missions over the forest but there had been no major fighting since the battle late Friday, even if there had been some artillery fire, said the sources.
It was the latest development in the operation in Mali's western Wagadou region, where there had been concerns that AQIM was trying to set up a new base in the area.
AQIM, which has its roots in Algeria, has camps in Mali which it uses as a launchpad to carry out armed attacks and kidnappings in the Sahel desert region where the group is also involved in arms and drugs trafficking.
The withdrawal of Mauritanian troops from Mali two months ago has been followed by the establishment of new AQIM units near the border, notably in the forest region.
Earlier this month the neighbours agreed to carry out the joint operation against the group.
The four nations most affected by AQIM operations -- Algeria, Mali, Mauritania and Niger -- work closely together on security and military issues in efforts to crack down on its activities.
© 2011 AFP