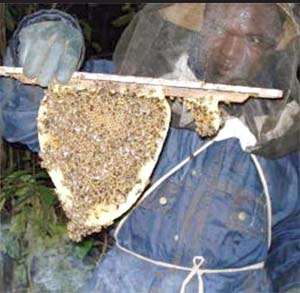 A beekeeper with Kenya brood comb
Indigenes of Nkwanta in the Volta region are actively engaged in beekeeping to create wealth.
According to Extra Mile West Africa (EMWA), a non-governmental and community development organization, there are an estimated 3,000 or so beekeepers in the region, although they are widely dispersed and largely operating on a subsistence level.
EMWA, which is championing bee-keeping in the Nkwanta District, said it has identified the business as crucial in reducing poverty in the district.
EMWA said its objective is to transform beekeeping into a profitable business venture.
Portia Asante of EMWA said by enhancing bee-keeping, the livelihoods of actors and the industry at a national level would be boosted.
She stated that EMWA works in close collaboration with Bees Afrique Ghana Limited, a honey marketing and trading company, which supports beehive technology development programme.
She noted that Bees Afrique is quickly becoming a major player in the honey processing and marketing industry and is also a buyer of organic bee wax.
Ms Asante indicated that EMWA will continue to support beekeepers in other regions of the country.
EMWA, which was established in Ghana, is engaged in both urban and rural development projects.
By Esther Awuah