May 25, 2011
|
General News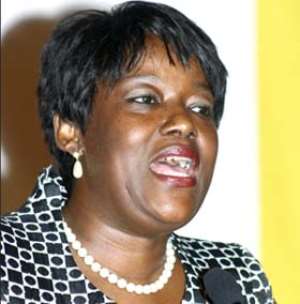 Acting Commissioner of the Commission on Human Rights and Administrative Justice (CHRAJ) Anna Bossman has resigned.
She was said to have tendered in her resignation letter to the presidency yesterday.
Ms. Bossman confirmed her retirement to the media and said her decision to quit CHRAJ was to enable her to pursue 'other interests'.
She said it was the 'right time' for her to move on and the 'right thing' to do.
'I wanted to do other things…At a certain age you decide to move on…I will work at other places, do human rights work,' she told Citi Fm.
Speculations are rife that Ms Bossman quit the commission because of her inability to secure confirmation as the substantive boss of CHRAJ after acting in that capacity for a couple of times.
After Justice Emile Short's resignation last year December, it was widely speculated that Ms. Bossman would take over as Commissioner of CHRAJ but sources say a High Court judge has been appointed as the new commissioner and that might have triggered Ms. Bossman to take the sudden decision.
Anna Bossman began her career as an Assistant State Attorney in the Criminal Division of the Ministry of Justice and Attorney-General's Department after graduating from the Ghana Law School in 1980.
She also worked extensively in the energy sector, taking up various legal, managerial and consultancy services with multinational oil and gas companies in West and Central Africa, particularly Gabon.
She is a staunch supporter of women and children's rights and advocated with the Federation of Women Lawyer's (FIDA) and the African Women Lawyers' Association (AWLA).
In 2002, Ms. Bossman was appointed a Deputy Commissioner at CHRAJ and subsequently became the Acting Commissioner from 2004 to 2009 when her former boss, Justice Emile Short, was granted leave of absence from the Commission to take up an international appointment as a judge with the United Nations International Criminal Tribunal for Rwanda in Arusha, Tanzania.
President Mills re-appointed Ms Bossman as Acting Commissioner after Emile Short announced his retirement on December 1, 2010.
She is currently a member of the National Gas Development Taskforce set up by the government, under the chairmanship of Prof. Kwesi Botchway, former Finance Minister in the Rawlings regime, to manage and help expedite the on-going gas commercialization project in the oil industry.
By William Yaw Owusu