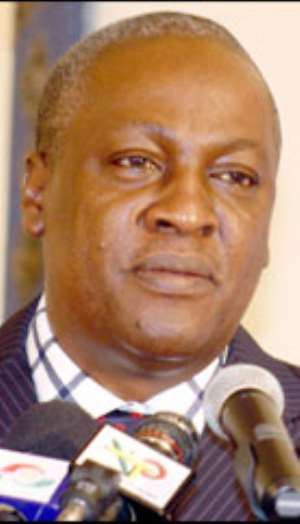 H.E.Vice President John Mahama
The Russian Federation, at the weekend, decorated Vice President John Dramani Mahama in recognition of his significant contribution to the growth and development of Ghana's culture, art, education and literature.
Vice President Mahama is the first Ghanaian to win the award, which was established by former Russian President Boris Yeltsin in May, 1999, for both Russian nationals and foreigners, for their contribution to culture, enlightenment, humanitarian sciences, and other important contributions to cultural heritage exploration and preservation.
The award, which was presented to the Vice President at the Castle, Osu, is named after Aleksander Pushkin, a Russian poet and author of Moorish descent, who is considered the father of Russian literature.
Mr. Vladmir Barbin, Ambassador Extraordinary and Plenipotentiary of the Russian Federation in-charge of both Ghana and Liberia, commended Vice President Mahama for his exemplary leadership in uplifting Ghana's cultural heritage beyond the confines of the country.
Other former international recipients of the medal include Mr. Vaclav Klaus, President of the Czech Republic, Mr. Avier Perez de Cuellar, a former United Nations Secretary General, and Mr. Li Peng, former Premier of the People's Republic of China.
Vice President Mahama thanked the Russian government for the recognition, and pledged to strengthen relations between the two countries. – GNA