Anis Haffar: Kofi Annan celebrates F.L. Bartels of Mfantsipim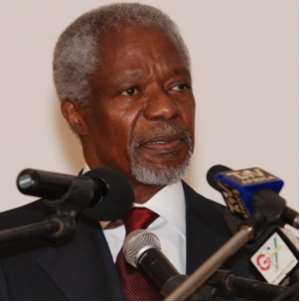 On Friday, 13 December 1996, the BBC announced that the 15-member United Nations Security Council had unanimously recommended Kofi Annan of Ghana as the next Secretary General to succeed Dr Butros Butros Ghali of Egypt.
F.L. Bartels, in his memoirs, "The Persistence of Paradox", noted: "I was filled with delight. For the second time the world body had found, from among the products of Mfantsipim, the person it needed from sub-Sahara Africa to blaze the trail in one of its spheres of influence."
The first occasion was in 1964, with the election of Alex Quayson-Sackey, Bartels's former school prefect, as President of the U.N. General Assembly.
In the jubilation, Bartels recalled that Kofi Annan was the Jesse Owens of the Inter-houses athletics competition in his last year at Mfantsipim. And also, in the 1954 school play, Annan played the role of the "Charity Commissioner" in Nikolai Gogol's "The Government Inspector", a Russian comedy on corruption, ignorance, and vanity of some bureaucrats. The play was produced by Annan's housemaster, Ian Roddick who, incidentally, taught the French that stood him in good stead in his diplomatic career.
On October 12, 2001 - when Bartels heard the extra news that a star pupil, Annan (and the U.N.) had now been crowned with the Nobel Peace Prize - he wrote: "My thoughts roamed in a world of paradoxes, of fears at the heart of things; of grief and joy; of speculation and vision, and several more. I needed to step on a finer ground."
Bartels's reminiscences were written for effect. His life in action had been catalytic enough. But any way you sliced them, such historic moments in the sun do not just happen; they are caused: and his positive influences peered at him in a fashion that found him in the rare moment of euphoria and rowdiness.
It mattered to the former headmaster that Kofi Annan, and a good many protégés, had made it. After living exactly one hundred years and one week, Bartels himself is now gone to his village, as we say in Akan; but the institution of him persists. He used to confide in me: "Haffar, I will live to be a hundred! And keep writing; it is a good obsession."
On 13th March 2010, Kofi Annan poured his heart out at the inauguration of the F. L. Bartels Education Foundation at the Ghana College of Physicians and Surgeons, Accra. As the keynote speaker for the occasion dubbed, "F.L. Bartels at 100 years: A Life Dedicated to Education", the former U.N. Secretary General addressed the audience in a way that only an honest and appreciative disciple could. He spoke the following:
"Most of us can point to a teacher who changed our lives. In my case there can be no doubt that that teacher is Francis Bartels. Each day takes me a little further on the road he helped to pave. Each day I look back in gratitude.
Like so many of you here, I first met Headmaster Bartels in the classroom. I was one of a group of boys who sat on the floor of his office for our weekly lesson in spoken English. Back then we were not yet aware how much more we would take away from this class and its teacher than just vocabulary and grammar.
But we were certainly already taken by him. Today, over 55 years later, I can still remember the respect Headmaster Bartels commanded by the sheer force of his personality. I can remember his never-tiring efforts to broaden our horizons; to encourage us to open our eyes, speak our minds, and engage with the issues of the day and the world at large while never forgetting the traditions and values of our own society. And, of course, I can remember the many times when he called me into his office to tell me off.
Headmaster Bartels was as a teacher should be. From an early age he dedicated his life to education, to the cultivation of the mind and character first of himself, later of others. As a result, he taught from the heart, not merely from books. He inspired thought and encouraged doubt, allowing us to discover ourselves in the process.
For Headmaster Bartels, education was about the formation of character rather than the mere transmission of knowledge. The mind was not a vessel to be filled, but a fire to be ignited. And ignite he did. In order to nurture our interest in the world beyond Mfantsipim, he often brought in prominent people to speak to us and never ceased to direct our attention to the political situation of the day.
It certainly helped that Ghana during the independence struggle was a particularly rich stage on which to gaze, and my memories are of an exciting, eye-opening, formative period in my life not least because the struggle succeeded. Given such encouragement to look beyond one's immediate environment, it is hardly surprising that so many of us followed the Mfantsipim tradition and ended up in public service. In my case, the fire he ignited certainly played an important part in my decision to join the United Nations in 1962.
But his influence did not end there. During my 45 years at the UN, there was not a single day when the skills he had taught me did not stand me in good stead and help me cope with the demands of my job. Whether at my first posting at the World Health Organization, or at my last as Secretary-General, the wise words of Francis Bartels stayed with me for my entire career.
Caught in endless rounds of meetings, I often thought back to one particular occasion when the headmaster called me into his office to chide me for leading a hunger strike in protest against the school canteen. He told me that I would not solve problems with such an attitude and should have come to him first to discuss the matter "man to man". I never forgot that lesson, and have not led a hunger strike since.
Headmaster Bartels and I have stayed in contact, and even 40 years after I had left his guardianship, he would occasionally call me after a particular speech to say "Well done". It is hard to convey how much these calls have meant to me. The headmaster's interest in his students did not end on graduation day. He followed everyone's progress closely and always expressed his joy and pride at the professional achievements of his former charges.
Nothing could better sum up the teacher Bartels than the inscription beneath the bust dedicated to him by some of his grateful students. It reads 'He sought to make us greater than himself'. He certainly set the standard high.
But Francis Bartels was, and continues to be, so much more than a teacher. He was a man of positive change long before President Obama championed the term. Whether as President of the Conference of Heads of Secondary Schools or the Ghana Association of Science Teachers, whether as Chief of UNESCO's Africa Division or as University Professor in Nairobi, his mission was to improve the state of education in Africa.
No doubt, he even managed to squeeze this mission into his time as Ghana's ambassador to Germany. Unsurprisingly, the path Headmaster Bartels has taken, the affection he has shown to his students and the passion with which he has championed Africa education, have not gone without official recognition. Among many other honours, he received an honorary doctorate from the University of Ghana. In 1956, Queen Elizabeth II conferred the Most Excellent Order of the British Empire on him.
Such has been his remarkable life and impact that I could easily spend the rest of this speech talking about his qualities and achievements or his impact on me. But this would do Headmaster Bartels an injustice. For it was the future, not the past, which has always been his prime focus ... Let me end and in deep admiration and gratitude wish him: Awoda pa, awo. "
Youth Leadership Forum email: [email protected]