Ghana Hasn't Broken Ranks With ECOWAS - On Cote d'Ivoire Issue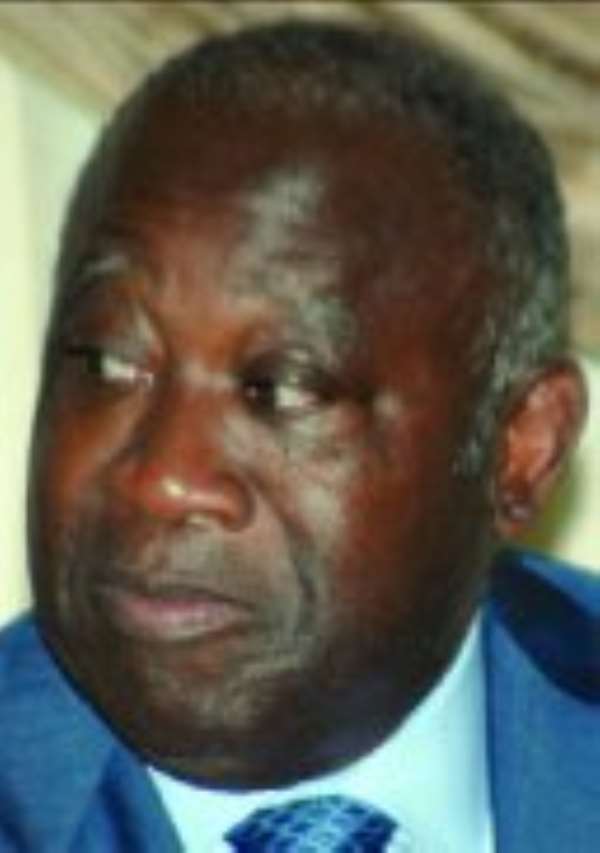 President Laurent Gbagbo
The African Union (AU) mediator in the electoral crisis in Cote d'Ivoire, Mr Raila Odinga, has stated that Ghana had not broken ranks with other African leaders in their decision to use military force as the last option in resolving the crisis.
He said after holding discussions with President John Evans Atta Mills, he was convinced that Ghana was still united with other African leaders in finding an amicable solution to the political impasse in Cote d'Ivoire.
Speaking to the Castle Press Corps after a closed-door meeting with President Mills yesterday, Mr Odinga said their discussions had been fruitful and aimed at ensuring peace in Cote d'Ivoire.
He said before he came to Ghana, the impression had been created that Ghana had broken ranks with its ECOWAS members, but after 'frank and fruitful talks with President Mills, it is clear that these impressions are misrepresentations'.
'I realised there were a lot of misrepresentations and misunderstandings on Ghana's position with regard to the Ivorian crisis. Ghana really subscribes to the AU and ECOWAS Charters on finding a peaceful solution to the impasse in Cote d'Ivoire," he said.
Mr Odinga, who is also the Prime Minister of Kenya, expressed satisfaction with the explanation by Ghana that it was overstretched as a result of contributing more than 500 troops to the UN to maintain peace in Cote d'Ivoire.
He said Mr Laurent Gbagbo's refusal to respect the will of Ivorians, as expressed in the November 28, 2010 elections, would deal a severe blow to the wave of democracy sweeping across Africa.
He said with internal tension and hardships already mounting and bound to escalate, amid uncertainty over the future, time was running out for an amicable negotiated settlement, adding that in spite of those challenges, he remained hopeful that a 'peaceful resolution is within our grasp'.
In his remarks before the camera session, President Mills lauded Mr Odinga and his team for their efforts at finding a lasting solution to the problem in Cote d'Ivoire.
He reaffirmed Ghana's commitment to peace in Cote d'Ivoire and all parts of the world and described Mr Odinga's mission as 'very important'.
He was convinced that Mr Odinga's expertise and experience would help open a new chapter in developments in Cote d'Ivoire.
'I believe Mr Odinga and his team have the necessary experience for the task. I wish them well in their endeavour at finding a lasting solution to the impasse,' President Mills said.