UN points to Ivory Coast 'extra-judicial killings'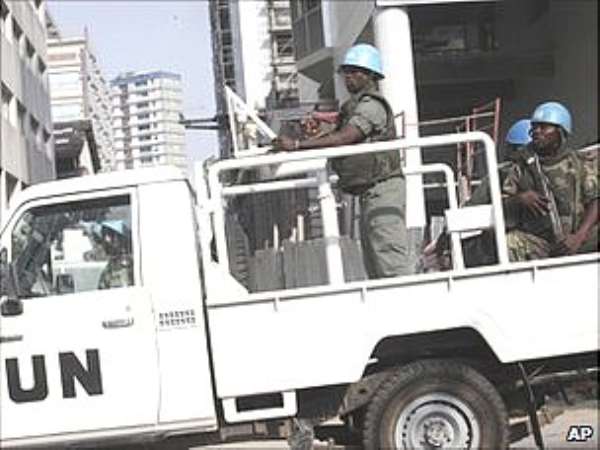 The UN says it has been blocked from investigating alleged abuses

The UN official investigating alleged abuses in Ivory Coast after a disputed election says he has evidence of extra-judicial killings.
Simon Munzu told the BBC his staff had verified some cases, while others were reported by families.
But he said a campaign of intimidation by incumbent President Laurent Gbagbo's supporters appeared to have receded.
Kenyan Prime Minister Raila Odinga is travelling to Abidjan to help try and resolve a post-election stalemate.
Mr Gbagbo has so far refused demands from the world community to stand down in favour of his rival in the 28 November presidential polls, Alassane Ouattara, who is internationally recognised as the victor.
Mr Odinga, the African Union's representative, is due to travel from Nigeria - where he has held discussions with President Goodluck Jonathan - to meet Mr Gbagbo and Mr Ouattara.
He will join a mission from the West African regional group, Ecowas, including the presidents of Benin, Cape Verde and Sierra Leone.
Sierra Leone's information minister, Ibrahim Ben-Kargbo, told the BBC the leaders will call on Mr Gbagbo to step down, and did not intend to negotiate with him.
'Investigations blocked'
Human rights groups claim allies of Mr Gbagbo have been abducting opponents.
The UN says some 200 people have been killed or have disappeared in the past month - mostly supporters of Mr Ouattara.
Peacekeepers from the UN mission (UNOCI) have been instructed to do all they can to investigate sites of alleged human rights violations, but say security forces loyal to Mr Gbagbo have twice blocked them from visiting the site of one of two alleged mass graves.
The Gbagbo government has repeatedly denied the existence of any mass graves.
The UN has also expressed concern that some of the homes of opponents to Mr Gbagbo have been marked to identify the ethnicity of their occupants, indicating signs the country could be heading for ethnic violence.
Speaking to the BBC World Service's Newshour programme, Mr Munzu said the UN had received many reports of killings.
"In some cases the information has bee verified by our own staff of the human rights division right across [Ivory Coast] but for others we rely on information reported by family members," he said.
He cited an example of a report from one person who said his uncle and another man disappeared before their bodies were found in a mortuary with signs of "foul play".
'Lowering of atrocities'
Denials by Mr Gbagbo's camp lacked credibility while the UN was not allowed to investigate, he said.
The UN was "horrified" by reports about the marking of doors, he said, but added that "to jump from that to the extreme of saying that we are on the brink of civil war in [Ivory Coast] is an exaggeration".
Mr Munzu also said a campaign of intimidation by supporters of Mr Gbagbo appeared to have been aimed at blocking Mr Ouattara's side from taking control of the state's institutions.
"The attempt by the Ouattara camp to take over those institutions having appeared to have receded if not failed, I suppose the Gbagbo camp is breathing more easily now and that is reflected in a lowering of the atrocities that are committed to intimidate the people."
UN peacekeepers are protecting Mr Ouattara, who is holed up in a hotel in the main city, Abidjan.
Mr Gbagbo has called on them to leave the country.
The election was intended to reunify the country which has been divided since a 2002 conflict.
Mr Ouattara was initially proclaimed the winner by Ivory Coast's election commission, but the Constitutional Council said Mr Gbagbo had won. Both men have been sworn in as president.