Phone repairer, 2 others in court for robbery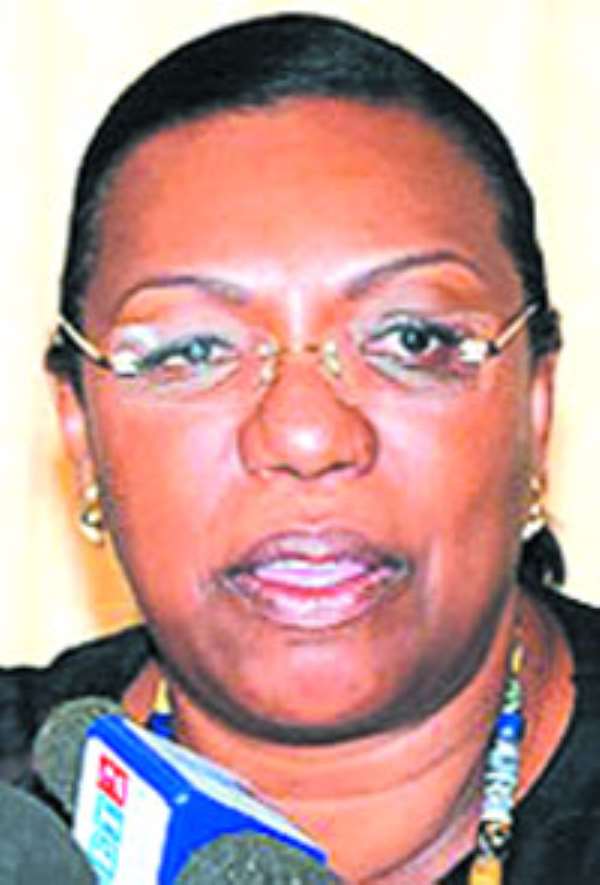 Mrs. Betty Mould Iddrisu, Attorney General & Minister of Justice
A phone repairer and two others, who are alleged to have raided the home of an Airline official and robbed him of his possessions, have been arraigned before an Accra circuit court.
The accused person, Abdul Salim Ali, alias KG and two others, currently at large, are facing charges of conspiracy to commit crime and robbery. Salim pleaded not guilty before the court and has been remanded into custody to re- appear on December 29, 2010.
The facts of the case indicate that on February 27, 2010, the complainant, who is an Airline official, and residing at Awoshie, was asleep with his wife when he heard gunshots on his compound.
According to the prosecutor, DSP Kofi Blagodzi, the complainant later heard a heavy bang on his glass door, which the accused person and his two other accomplices, who are now at large, could not break through due to the burglar proof behind it.
He said the landlady, who is a witness in the case, peeped through her window and identified the accused person and his accomplices succeeded in breaking into the house through the kitchen door and entering the bedroom of the complainant.
He mentioned that the accused persons, who were having locally manufactured pistols, searched through the complainants room and made away with cash in the sum of GH¢600.00, one Toshiba laptop computer valued at GH¢1,200.00, two Vodafone mobile phone valued at GH¢50.00 and one Nokia mobile phone whose value could not be given.
DSP Blagodzi noted that the next day, the complainant's wife, who is also a witness to the case, was going to a shop when she spotted the three accused persons and subsequently informed her husband who also alerted the police.
'The police then traced them to a house where they bolted. Their rooms were searched and two locally manufactured pistols, together with two cartridges were found', the prosecutor told the court.
The prosecutor pointed out that on December 1st, 2010, the police again had information that the accused person and his friends were hiding at Awoshie, and the accused person was subsequently arrested, but his accomplices managed to escape.