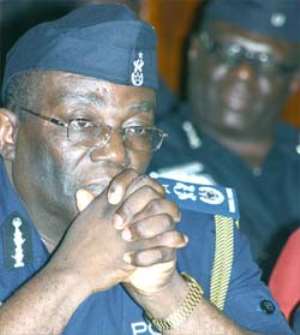 IGP Paul Tawiah Quaye
FOLLOWING the implementation of the Single Spine Salary Structure (SSSS), personnel of the Ghana Police Service have expressed satisfaction with their take-home pay for July.
The SSSS system, which became effective on July 1, 2010, seeks to promote equity and fairness in public sector pay and salary administration.
It places all public sector employees on one vertical structure, with incremental pay points for the lowest to the highest level.
Despite the mixed feelings expressed by some government workers over the system, the Ghana Police Service, which was the first institution to have been put on the system, has hailed it.
According to the Inspector General of Police (IGP) Mr. Paul Tawiah Quaye, "Personnel of the service have been astounded by their July salaries."
He stated that the substantial increment in the salaries of the personnel would boost their morale and encourage them to work harder.
The IGP made these remarks when personnel of service interacted with officials of the Fair Wages Commission and some government officials to solicit their views and impressions about the new system.
He however warned that the fight against corrupt officers would be intensified to weed out miscreants in the service.
In his address, the Chief Executive Officer (CEO) of the Fair Wages and Salaries Commission, George Smith Graham commended the Ghana Police service for their commitment towards the full implementation of the system despite various challenges.
He stated that with the necessary cooperation from workers all public sector workers would be enrolled onto the new system by September this year.
The Minister of Employment & Social Welfare, E.T Mensah, on his part, stated that "the SSSS will among other things minimize industrial relations problems with regards to salaries."
He therefore entreated all public sector workers to support the system since it is aimed at promoting equity and uniformity in the public sector.
By Esther Awuah & Samuel Boadi