Britain Declares War On Bush Meat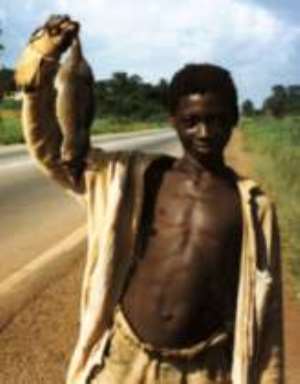 British Environmental Health officers have launched a war on African supermarkets in London in a bid to rid the capital of what they call illegal bush meat. The Police and Health authorities both claim their operations are aimed at discouraging the sale and purchase of bush meat from Africa. Yaw Ampofo Ankra reports from London that the scene could easily have become a Hollywood science fiction.
Men dressed in white overalls and gloves with protective face gear to avoid possible detection were carrying bags of "evidence" for forensic examination. They described them as "unidentifiable" meat.
But this was the worse nightmare for some traders and shop owners in London. The raids follow several tip-offs that unhygienic rotten meat is being sold on the black market for big money. When I visited the scene of one unfortunate raid victim, his version, as expected was slightly different. The name of the supermarket in question is "KEJETIA" – a Ghanaian owned business in London.
Here Africans especially Ghanaians can purchase their favourite foodstuffs ranging from kenkey, pig feet, wele, snails, crabs, even Star beer and bitters like "Alomo". But these do not seem to pose much of a problem for health officials. It is the bush meat, the "akrantie"!
This is not the first time KEJETIA has been raided by the cops and health officers, giving rise to accusations of victimization by the local African Community. The owners of KEJETIA insist that their operations are legal and they have always satisfied all heath and safety regulations. Ironically, the alleged complaint or tip-off came from within the huge and vibrant Ghanaian community. For now, at least, hundreds of London based Ghanaians face the prospect of Christmas without Bush meat or "akrantie".