Ivory Coast: President Gbagbo dissolves government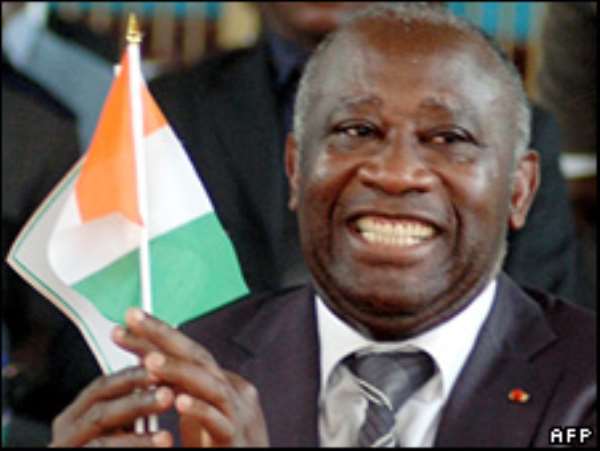 President Laurent Gbagbo of the Ivory Coast

Ivory Coast's President Laurent Gbagbo has dissolved the government and electoral commission, casting doubt on when long-delayed elections will occur.
Prime Minister Guillaume Soro has been asked to form a new government.
Mr Gbagbo had accused the electoral commission of registering more than 400,000 people who were not eligible to vote because they were foreigners.
The opposition says most of the people were from ethnic groups in the north, who were unlikely to support Mr Gbagbo.
Ivory Coast, which is the world's biggest cocoa producer, is slowly recovering after being cut in half by a civil war for several years.
However, attempts to hold elections have been repeatedly postponed.
'Final actions'
In a recorded message broadcast on Friday, President Gbagbo announced that Ivory Coast's government had been dissolved.
He also said he was disbanding the election commission, saying its director Robert Beugre Mambe had been "running an illegal operation". Mr Mambe is a member of an opposition party.
"I want a government that serves the interests of the Ivorian people and not the orders of political parties," Mr Gbagbo added.
"The mission of this new government will be, under the authority of the president and the prime minister, to complete the final actions necessary to bring Ivory Coast out of its political crisis."
The opposition says most of the people who were disqualified by the election commission were from ethnic groups in the north of the country, who were unlikely to support Mr Gbagbo in any vote.
The decision comes two months after the government last failed to replace President Gbagbo, whose term expired five years ago, and follows a decision by Mr Soro, a former rebel leader, to suspend the parliament because of rising tensions.
The former rebel New Forces seized northern Ivory Coast in 2002. They are now sharing power with Mr Gbagbo under a peace deal.