Don't interfere in the selection of Gonja king - Veep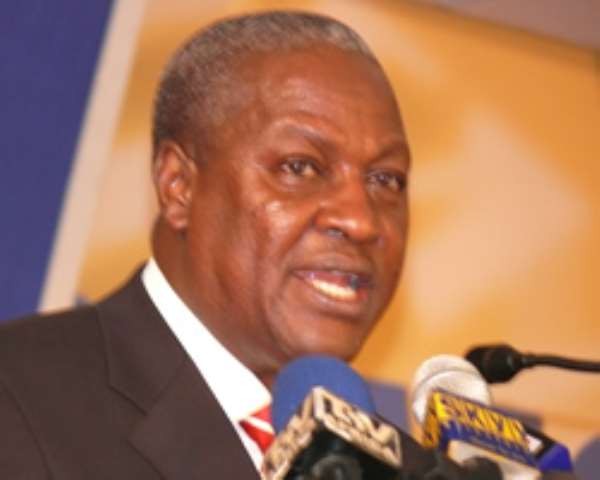 Vice-President, John Dramani Mahama

The Vice-President, Mr John Dramani Mahama, has cautioned against interference from any quarters in the selection and installation of a successor to the late Yagbon-Wura Bawa Doshei II.
He said the selection process should be reserved for the people whose duty was to select and install a king, based on the Gonja tradition.
According to him, the best honour the Gonjas could give the late king is to ensure that the selection and installation of a successor is peaceful.
The Veep, who is a son of Gonjaland, made these comments in Damongo on Friday during a durbar of chiefs and people of Gonjaland to mark the climax of the funeral rites of the late overlord of the Gonja Traditional Area who passed away on the first day of this month.
The ceremony was well attended by the sons and daughters of Gonjaland and supported by chiefs and people of other ethnic groups in the country, as well as representatives of the various political parties and other representative groups in the country.
As per the traditions of the Gonjas, the successor to the late king will be chosen from Tulwe, which is one of the five gates to the Gonja skin.
The others are Kpembe, Bole, Kusawgu and Daboya. The late Yagbon-Wura Bawa Doshi II was a son of Kpembe, located in the East Gonja District of the Northern Region.
In the view of the Veep, it was important for the Gonja Traditional Council to resist the importation of any convention regarding succession to the skin, which was foreign to the traditions and customs of Gonjaland.
He noted that the Gonjas never had any history of disputes regarding succession and, therefore, he saw no reason why this time round there should be any problems.
"We have a history of having harmonious successions and this must be continued. People are watching us and they expect a peaceful process," he stated.
The Veep noted that if any challenges emerged in the selection of a new king to replace the late one, a solution could easily be found within the customs and traditions of Gonjaland.
He described the late Yagbon- Wura Bawa Doshei II as an honourable king, under whose 12-year reign, the Gonja area prospered and contributed immensely to the socio-economic and political development of the nation.