Gov`t, Telcos on collision cause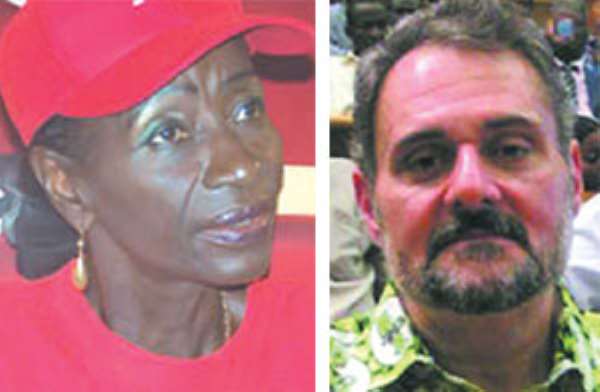 Government and telecommunication companies in the country are heading for a collision on issues bothering on the indiscriminate citing of communication masts and the amount of investment some of the companies allocate for new technologies to ensure an environmentally friendly operation and improved service delivery.
Ghana's Minister of Science and Environment, Mrs. Sherry Ayittey in a recent outburst on the issue, took a swipe at the various communication companies operating in the country, for indiscriminately littering telecom masts at every given space in the country, thus undermining the possible health implications of these masts on the people in communities in which they are cited.
She also added that despite the huge sums of money these telecom operators make in the country, they do little in terms of investments in new technologies, but rather channel a lot of resources in the sponsorship of beauty contests and sports. These developments, she said, were being considered by government to ensure that telecom operators invest a substantial amount of their gains in the country.
The Minister's statement, however, received a rather harsh response from Mr. Robert Palitz, Managing Director of Kasapa Telecom Limited, one of the telecom operators in the country, who described the Minister's statement as "unfair" and "irresponsible". He explained that the Ministers statement had the tendency to cause unnecessary panic and aggression towards telecom companies.
Meanwhile, Dr. Omani Boamah, Deputy Minister of Science and Environment, who also spoke on Joy FM's super morning show yesterday, said apart from issues of radiation from these masts, there are also concerns about the structural deficiencies which have in recent times led to the collapse of some of these masts, leading to deaths and destruction of properties.
He recounted that research indicates that certain cancers in certain cluster forms in the UK are strongly associated with communication masts. He argued that by the World Health Organisation (WHO) definition of a person's state of health, it states: Health is a state of complete physical, mental and social well-being and not merely the absence of disease or infirmity, the mere fact that generators that power these littered masts cause a lot of pollution to the environment, and calls for great concern.
"When people are sleeping in their homes and generators that are used to power these communication masts are disturbing them throughout the night, why can't the telecommunication operators adopt things like invertors, such that the noise pollution that goes on is stopped", he questioned.
Government and industry regulatory agencies, including the Environmental Protection Agency (EPA) and the NCA, have done extensive work on legislation on co-location as a licensing requirement for telecom operators, and also to spell out the modalities for mounting telecom masts anywhere in the country.