Western Region NPP Retains Owusu-Ankomah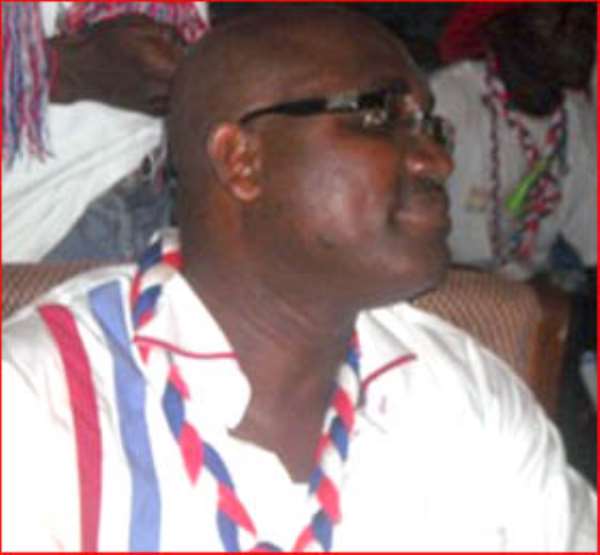 Nana Owusu-Ankomah
THE INCUMBENT Western Regional chairman of the New Patriotic Party (NPP), Nana Owusu-Ankomah was last Wednesday re-elected as the party's regional chairman for the next four years at the party's regional Delegates' Conference held at Asankragwa in the Wassa Amenfi West District of the Western region.
He had 114 votes to beat two other candidates, Kwesi Blay, former deputy regional minister who was tipped by political pundits in the region to win the chairmanship position and Paa Payne, a Takoradi-based businessman.
They both had 138 and 51 votes respectively.
In an election that was supervised by the Electoral Commission, Mr. Kwesi Biney, the former editor of the DAILY GUIDE and former District Chief Executive of the Ahanta West was elected first regional vice-chairman of the party.
He had 174 votes to beat his only contender, Benjamin Kwaw, a staunch member of the party in the region, who obtained 159 votes.  
One position, which many expected to be keenly contested was the regional organizer which many people tipped the incumbent Kojo Acquah to retain.
Sampson Obeng, deputy organizer and Kwame Kintor, an NPP activist in the region also contested for the postion.
Kwame Kintor won the position with 157 votes while Kojo Acquah and Obeng garnered 141 and 34 respectively.  
Other officers elected included Mr. K.K Sam, Regional Secretary; Okatakyie Amankwa Afrifa, Assistant Secretary; Abena Kwalla, Regional Women's Organizer; Abdul Ganiyu Mohammed, Regional Youth organizer and Ernest Kwesi Krampah, Treasurer.
The regional conference attracted many people, particularly the youth, who had thrown their weight behind the various candidates.
They were on their campaign trails helping to sell the messages of their respective candidates to the delegates.
The regional delegates' conference which was on the theme "Uniting for agenda 2012 victory", was nearly marred by a group of people believed to be delegates from the Aowin constituency who were prevented from taking part in the elections for reasons best known to the regional executives of the party.
They threw stones into the assembly hall of the Asankragwa High School, destroying most of the louvers in the process while some of them tried to enter the hall but the police had to fire warning shots to drive the rioters away.
The General Secretary of the NPP, Nana Ohene Ntow thanked the delegates for the peaceful manner they had conducted themselves, adding that the party was capable of overcoming the perceived division in the party to win the 2012 elections.
He noted that he was very much convinced that Ghanaians were already calling for the return of the NPP. Nana Ohene Ntow urged the elected officers of the party to unite and work hard to win back all the parliamentary seats that the NPP lost in the region in the last general elections.
He also cautioned party members against complacency, which he said, could derail the party's victory in the 2012 general elections.
From Emmanuel Opoku, Asankragwa