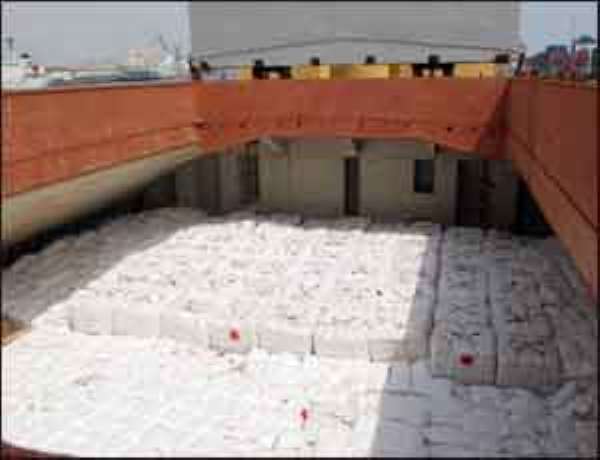 Some of the rice on board the Cido Vessel
THE GOVERNMENT of Ghana is expected to become the latest recipient of 16,035 metric tonnes of rice from the government of Japan, which is currently being discharged from the Cido vessel at the Tema Port as part of Japan's assistance to developing countries, CITY&BUSINESS GUIDE has learnt.
The donation, which is worth $10 million, is reported to have arrived in the country last week.
The Ministry of Finance and Economic Planning (MOFEP) is expected to receive about 500,000 bags of rice.
The donation forms part of the Japanese government' Official Development Assistance (ODA) to developing countries, which began in the year 1954.
The donation was in response to a request made by the government of Ghana to add to its existing quantity that was produced by local rice farmers as the continent and the rest of the world recover from the global food crisis, which hit the world last two years ago.
The Japanese government donated 8,060 metric tonnes of rice last year to Ghana.
The companies that facilitated the shipment of the cargo from Japan to Ghana are the suppliers, Ito-Chu Corporation of Japan and Mario Logistics Company in Japan.
Speaking to the media at the Tema Port shortly after the arrival of the cargo, Yaw Yirenkyi-Attuah, Managing Director of Marino Logistics Ghana Limited, noted that the Japanese ODA usually support the nation's food production.
Explaining further, he noted that the aid was sometimes given in cash, food or even fertilizers, adding that the Japanese government acted on the request of government.
Mr. Yirenkyi-Attuah told this paper that the discharging of the cargo was expected to last for about a week after which the rice would be handed officially to the government through MOFEP.
"Niger received 6,500 metric tonnes of rice with Mali, getting 3,000 metric of tonnes since its exception.
"We would ensure that the discharging of the rice is done without any problems so as to have all the cargo handed over to the government of Ghana," he stressed.
For his part, Shoji Komatsu, President of Marino Logistic Company limited, explained that the government and people of Japan since the end of World War II over 60 years ago have been working towards peace all over the world, stressing that "the Japanese believed that there will be no peace if there is no development."
Concluding, he observed that the government of Japan believed that the most appropriate way to contribute to peace and stability in the world was to assist developing countries; hence, his country's donation to Ghana.
From Razak Mardorgyz Abubakar, Tema