Baby Ocansey 's Case: Three Acquitted!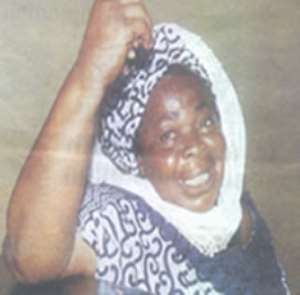 THERE WAS joy and jubilations at the Accra Regional Tribunal yesterday when Justice Isaac Douse, acquitted and discharged the second, third and fourth accused persons in the trial involving Hajia Baby Ocansey and three others.
Immediately after the ruling, relatives of he accused persons shouted for joy and shed tears of relief as they hugged one another and sang praises to God.
Reading his judgement, Justice Donse explained that the second accused, Mr Sebastian Dick Kobla Gavor, third accused Mr. Justice and fourth accused Alhaji Gimaila Siddiq have been acquitted and discharged on all the counts of conspiracy, abetment and causing financial loss to the state.
He, however, noted that reasons for his ruling would be given later on.
The ruling follows the submission of no case by counsel for the accused persons that no prima facia case has been established against them to warrant the opening up of their defence.
In its ruling, the court was of the view that the evidence available to the court and submissions made to the court show that no prima facia case has been established against the three accused persons for them to be called upon to open their defence.
The first accused person, Hajia Baby Ocansey, however, has a case to answer on all the charges levelled against her by the prosecution, the trial judge announced in court.
Amina Abubarkari Saddique, alias Hajia Baby Ocansey, is alleged to have conspired with Mr Sebastian Gavor, Justice Larbi and Alhaji Gimaila Siddiq to cause a loss to the tune of $1.5 million to the state.
According to the prosecution witness, Anthony Gyambiby, who is also a state attorney, Hajia Baby presented a Chase Manhanttan Bank draft with a face value of US$1,500,000 to her accomplice for processing and clearance.
Anthony Gyambiby noted that somewhere of October 1999, Mr Sebastan Gavor, the second accused, invited a Mr Emmanuel Donkor who is the manager of the budget and accounts section of Ghana into his office where he, Gavor, asked Donkor to furnish Hajia Baby Ocansey with the accounts number and address of the Ghana International Bank in London.
He explained that Donkor complied with the request and supplied the relevant documents to Hajia Baby.
Upon receiving the relevant documents, she issued the Bankdraft with number 835/640 and a face value of US$ 1,500,000 for clearance.
After receiving the money, Hajia Baby was alleged to have presented another second draft which was found to be counterfeit in addition to the first one.
The prosecutor maintained that when she realised that her draft had been found to be fake, she went into hiding until she was flushed out at Medina Zongo in Accra.