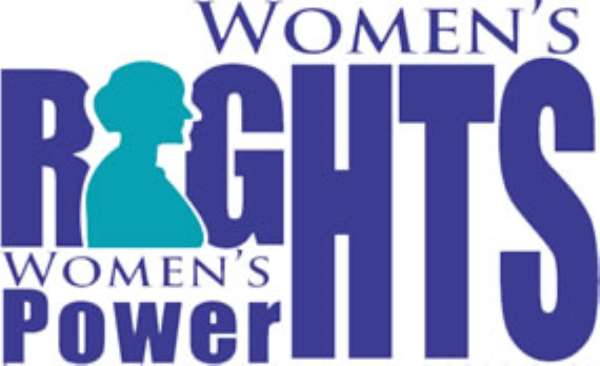 There is something wrong with the women's movement in Ghana. Indeed, one gets the feeling that the lobby group no longer appreciates the success of their decades-long advocacy efforts; if not they should not be focusing narrowly on political scraps, which can alienate them from forward-looking feminist enthusiasts.
Admittedly, the women's movement is not a homogenous group. Webster (2001) warned against the danger in characterizing it as a unified discourse preferring the term "feminisms". However, there are problems with the women's front in Ghana, homogenous or otherwise.
For instance, celebration of female achievement in recent times is characterized by quirkiness, comprising mostly tersely worded messages that recognise the elevation of some woman to some high public office.
Even these messages are frequently subsumed with agitation for more tokenized positions, especially by the right-wing faction of the movement. It is as if the movement is running in a lair!
Why no countrywide event was organized to showcase the appointment of Professor Jane Nana Agyeman as Vice Chancellor (VC) of the University of Cape Coast still baffles me.
Why? Education is the greatest bog that confronts women in this country, not politics. Yet, when a woman became the VC of a major public university, those whining for female empowerment failed in seizing the opportunity in furthering their goal.
When VC Agyeman was appointed as head of UCC, it was the expectation that the women's movement would find her useful; that they would use her appointment as a route to inspire and mentor many girls. But they were nowhere to be found.
Similarly, no platform has been created for other women who have achieved "firsts" to showcase their achievements for the younger corps of females to emulate: Justice Bamford Addo as Speaker of Parliament, Justice Georgina Wood, Chief Justice, Elizabeth Mills Robertson, as first female Inspector General of Police, even if that was in an acting capacity, and Betty Mould Iddrisu, as Attorney-General, among others. All of these have gone without a whiff from the women's movement. What does the Ghanaian feminist movement then want? Not that they have no right in clamouring for more positions for women. They must hold the government accountable, as expected of all citizens and to demand that a pledge voluntarily made by a presidential candidate is honoured when he prevails at the polls. The point is this: Of what use has the movement put the many women now occupying noteworthy positions?
Yet they want to go to the streets demonstrating? It would have been a rouse demonstration if it went on anyway. For these are the very leaders who offered little or no support to the female political appointees, especially the District Chief Executives, who were struggling with their nomination processes.
If the women's quest is just about saying that we now have this or that woman in this or that position, then they have lost the game. Concretely, that is not what female empowerment is really about. For instance, if a woman becomes Speaker of Parliament, then it becomes incumbent on the movement to ensure that systematically laws being passed are more gender responsive.
Similarly, if a woman is Attorney-General, then the movement has a platform to ensure that women receive justice, whether they are rich or otherwise.
This is not to say women should be happy about their present status; they should not. The celebration is to chart the torturous journey leading to these feats and how to strategize for the next harvest. Celebrating womanhood thus is to remind the younger generations about how easy it is to slip into nadir. Thankfully, Chief Justice Wood has created her own mentoring programme.
Celebrating womanhood is also about questioning the evils of masculine authority that sees women, to quote literary critic Hans Bertens, as "immoral and dangerous seductress", as an "eternally dissatisfied shrew", and as "cute but essentially helpless". These false beliefs tend to inveigh against women. State University of New York Professor Claire Moses documents that "millions of women" were burnt as witches between the 14th and the 18th centuries for their "challenge to patriarchal order".
Women were regarded as "infirmus imbecillus sexus" or "legal non-persons". In their book, Violence against Women in Ghana, Coker Appiah and Kathy Cusack listed a number of female-directed violence acts, namely physical, psychological, socio-economic, sexual and traditional, which are still being practiced.
In all these cases, women were to be made in subjection to men. However, sterling works by scholars began to bay the situation. Gayle Rubin's work that differentiated sex from the cultural construct of gender, helped in demystifying gendered relations. Against this backdrop therefore what the women's movement must do is not to make themselves irrelevant by engaging in needless political fights. It must redirect its energies to the things that would elevate women.
Not every woman is interested in a political office, but every woman wants education because it is education that liberates. Education is the answer to the woes that face millions of women in the country and this would not be solved by offering a few women political positions. Every woman - and every progressive man - is interested in an empowered woman. An empowered woman is one who through education is able to challenge repeated cultural barriers. An empowered woman, is the one who using education or "books as a weapon" (Mariama Ba) sets out to subvert structures, ideologies and institutions that have facilitated gender discriminations (Carolyn Kumah, 2000).
The example of products of Wesley Girls High School at Cape Coast shows clearly that when women have education, all other things will be within their reach. As it is now, the political "fist cuffs " by some of these feminist leaders would not sabotage the idea of Ghanaian women remaining victims of cultural trappings such as battering, verbal abuse, objectification, and infantalization as noticed by Appiah and Cusack. These are the things which must engage the attention of the women's movement. They should focus on weakening patriarchal conventions to liberate women from the manacles of society rather than seeking to impose their political beliefs on their followers. They must seek to circumscribe the reductive traditional images that prevaricate women status in society.
An educated woman is one that cannot be easily traduced by the husband because of low income. As Ba enunciates in "So Long a Letter", if women's "opinions are to carry weight, they must be based on knowledge, backed by diplomas (education): "When you are adults, if your opinions are to carry weight, they must be based on knowledge backed by diplomas. A diploma is not a myth. It is not everything, true. But it crowns knowledge, work".
As Ba further espoused in that book, it is through education that women would be "lift(ed) out of the bogs of tradition, superstition and custom" and that should engaged the attention of all working for improvement in women's life. The jockeying for political perks may benefit a few, but the impact of education would be far-reaching, affecting positively the social, health, economic and psychological status of those women who receive it.
Here is the cache: Unless the women's movement re-directs its mission principally for the attainment of quality education for all women, their petulance for a few political scraps, however, legitimate, will not alter considerably the poor status of women nor galvanize any fresh upsurge in public support.
Credit: Nathaniel Glover-Meni (GNA)