Supreme Court rules on Akwatia Wednesday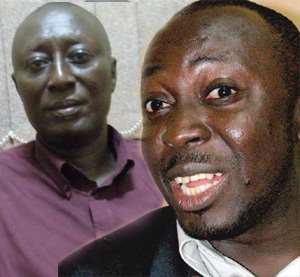 Baba Jamal (right) and contender, Dr Kofi Asare (left)

One of the most contentious issues arising out of the 2008 parliamentary election is expected to be determined at the Supreme Court in Accra today Wednesday, July 15, 2009.
It is the Akwatia Constituency case, in which Mr Baba Jamal, Samuel Abrokwa and Basil Ahiable took action against the Electoral Commission and the New Patriotic Party (NPP) Parliamentary candidate, Dr Kofi Asare.
The resolution of the case will bring to 18, the number of election-related petitions in respect of the 2008 presidential and parliamentary elections to be dealt with by the country's courts.
After the 2008 presidential and parliamentary elections, 23 petitions were filed at the country's courts for adjudication.
The six petitions yet to be cleared are Nkwanta North, Akwatia, Tain, Asuogyaman, Mfantsiman and Trobu Amasaman.
The list of election-related petitions in respect of the 2008 elections so far cleared are Sefwi Wiawso, Ayawaso West Wuogon, Wa East, Mfantsiman West, Sissala East, and Amansie West. Others are Ablekuma South, Tema West, Ayawaso Central, Weija, Lawra-Nandom, Bibiani Anhwiaso Bekwai, Kintampo South and Asutifi South.
The case in connection with New Patriotic Party (NPP) primary, involving Justice Kpegah vrs the Electoral Commission and the NPP has been disposed of.
In Respect of the Presidential Election, Mr Dan Lartey vrs Electoral Commission and Mr Richard Nixon Tetteh vrs Electoral Commission have also been thrown out.
Mr S. Yorke Aidoo, Director of Human Resource and General Service at the Electoral Commission, commended the Chief Justice for clearing 17 out of 23 cases within six months after elections.
He said the Chief Justice had come out with a couple of guidelines for speedy adjudication of election-related petitions.
"That probably has helped the situation," he told the Daily Graphic, and expressed conviction that the remaining six would be done away quickly to enable those constituencies without Members of Parliament to have their share of the national cake and for them to contribute to good governance in the country.
On the part of the EC, Mr Yorke said, "Our lawyers are on the cases and it looks as if the judges are also conscious to expedite action on the remaining cases."
He said what was significant is that in almost all of those petitions, the EC was cleared of any wrongful act."