Did NDC accomplish vision in Obama's visit?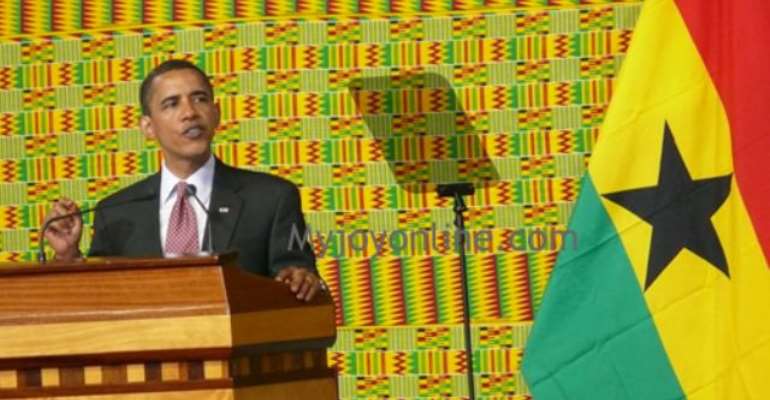 The US President Barack Obama fulfilled his avowed resolution to visit the spiritual land, Ghana, the first day he landed into his White House job. This is because Ghana brings the special promise, that every black person anywhere in the world prides himself or herself. There is peace; there is rich culture; there is youth-adult coherence that translates decency, obedience, and respect into conservative family marriage traditions; and there is also a high level of educated workforce.
President Obama started his three-nation tour with enthusiasm; and also with anticipated happy ending in Ghana. However, the visibly exhausted President Obama (caused by the previous two nations' engagements and long traveling), seemingly, got disappointed more with yet another miserable-looking presidential fellow. Mistake number two, drama unfolded at the Accra International Airport. The hosting President Mills dropped behind his guest, President Obama, following him as if he Mills, was a lost guest to President Obama in a huge J F Kennedy Airport facility tour.
Then another unpardonable confusion occurred inside the closed door meeting. What did the two men talk about? No one really knows; but I strongly believe that Kwaatta was given strong worded democracy tutorials. This is because the content of the message President Obama delivered to the nation just after the closed door meeting highlighted two strategic points that support my analysis here. One, he said that the youth, which form the larger population should stand up and make their government accountable. And two, he said that "democratic governments" do not suppress the opposition.
Of course snatching cars, illegal stop-and-search, presidential tit-for-tat games, etc. are definitely, not democracy. To cap it all, the sad thing is that the NDC government did not have any sensible thing to tell the visiting president. The Madam Speaker over-praised America in expectation that the Americans would be impressed to dish out cash to them. The NDC was wrong!
Mistake number four, the visiting President Obama was left alone to roam about in Cape Coast at the slave dungeons. A serious hosting president, armed with strategic plan for developments, would have accompanied him to whisper into his ears. What does this writer really want from President Mills and his NDC group? Is he realistic, or is he anti-Mills government? Putting him in President Mills' position, what would he have done so differently from Mills?
Before answering these myriad questions, let me declare that the NDC group is a failure and an embarrassment to the nation. The group has no plan to govern; and they have nothing to offer. An NPP government would have made an extraordinary difference that Ghanaians would have proudly benefited from such a great opportunity. For instance, former President Kufuor talked the hardliner Japan down, not only to change their minds from loan withdrawal, but also turned a loan offer into free project development; and that is the result of Accra-Cape Coast first class road the nation is enjoying currently.
Now what I would have done differently would have been based on my strategic planning. President Obama literally went to Ghana with a widely opened hand, full of stimulus money, to cushion the promising teenage African democracy-in-the-making in Ghana. But he needed to be convinced.
The "Agooji" multi-trillion-dollar cash man, Obama, who campaigned to champion youth development through education in the USA and all over the world, wanted to hear something around that. President Obama would want to appear before congressional and senate committees to answer questions about his generosity in Africa with positive endorsement in black education policy that will stabilize the rural communities, offer hope, and withdraw the vulnerable rural poor from terrorist, that will cure a possible human tragedy emanating from the African front. Do I make any sense to you, NDC?
Already multi-trillion dollars have been released to stimulate the USA economy; and many more trillion dollars are threatened to be delivered by our unyielding president. I would have timeously requested for a review of the over forty-year-old Peace Corp relationship between Ghana and the USA. Does Education Minister Tettey-Enyo have his accurate statistics ready on educational development in Ghana? I really doubt it very much.
The latest research report shows that education in Ghana is still poor. Children continue to study under trees, school feeding does not exist anymore, after six months of NDC takeover, capitation grant, the GETFUND, etc. are miserably handled and/or do not exist any longer. The study reports that Ghana needs at least 8,000 schools immediately. Putting me in President Mills' position, my number one target would be asking President Obama to build 10,000 primary, middle, secondary or high schools for Ghana.
On top of these, the US must provide personnel and finance for the smooth functioning of the schools. America has international universities across the globe, e.g. Cairo, Nairobi, Tokyo, etc. but not in Ghana. Our kind of international university should take the form of primary and secondary schools.
Additionally, the reparation strategy used by the survivors of the black enslavement must come in the form of kind gestures and stuff like that. Therefore asking for developments in a smarter way resonates easily; and it is definitely NOT asking too much. I know this will sound rubbish in the ears of our Non-Development Conscious (NDC) group because anything that does not pass physical cash through their corrupt hands will never receive any serious presidential accent.
Now let me educate NDC a little bit here. The basic common phenomenon in our American social context here is that the slightest exhibition of self-acclaimed inferiority complex - such as following a visitor in your own jurisdiction, singing wrong praises where they do not deserve, belittling and demoting oneself, etc. - gives your audience ample reasons to write you off. Americans believe in straight talk, hence President Obama was expecting the real African brilliance from the Ghanaian front to make their case. More especially with an "academic law professor" in charge, Obama was certain that the African case would be well presented for the whole world to listen. He got it all wrong; and he was very disappointed! Shame the NDC hopelessness in their self-composed adoration song!
Immediately, our powerful African-American negotiators quietly walked out biting their finger-nails. The president then slowly began folding the widely opened palms to form a hard clenched fist to punch sense into the heads of the weak thinking NDC folks - opportunity turned into verbal presidential classical lecture. President Obama returned home with a fist full of stimulus package meant for Africans, who did not know how to ask for anything at anytime anywhere. Another huge African embarrassment! Shame on you! NDC, Shame on you! Miserable group with hopelessness in its blood and still singing adorable songs to itself! Shame on you! NDC Enim-guwasee-akwaaba, shame on you!
Interestingly, the NDC has top-rated economic policy advisors such as World Bank expert and MIT lad, Dr. Cadman Mills, IMF expert and Syracuse lad, Dr. Kwabena Duffour, UN Ambassador Prof. Kofi Awornor, and so forth. Yet, seemingly, things are not working all right.
Honestly, opportunity strikes but once. When a nation deliberately runs into the bosom of a non-performer, the whole nation remains dormant and unproductive with numerous lateness and high chances of not catching the train. Does Ghana really deserve to remain like this until 2012, and possibly beyond, with NDC hopelessness in their shameless adoration? Beautiful Ghana, please help bring NPP back. We need to decide a better destiny. Make a change.
Credit: [email protected]