Government owes one billion dollars in judgement claims
Accra, July 14, GNA – Government owes about one billion dollars to various institutions in judgement claims, including compensation for land, Mrs Betty Mould-Iddrisu, Minister of Justice said on Tuesday.
Addressing a meet the press series in Accra, the Minister said although the claims were huge, government was negotiating with the institutions involved to reach an amicable settlement.
"These claims involve huge sums of money all of which cannot be paid off outright. Government will make efforts to settle those that are genuine," she said.
Besides the judgement claims and compensation for land, there are also international arbitrations between government and corporate institutions like Construction Pioneers and foreign litigation.
Mrs Mould-Iddrisu said attachment awards had been given against government in France, Belgium, USA and Holland.
However, the UK attachment was lifted in 2007 after the previous government paid almost four million dollars.
Mrs Mould-Iddrisu said a serious challenge facing the Ministry was lack of middle level state attorneys at the Prosecution Division, to carry out the task of prosecuting crimes, formulating penal policy, handle request for extradition and advising the Attorney-General.
She said the problem of staffing was even worse across the regions, where attorneys were in short supply to handle both criminal and civil cases and to service some district offices.
For instance, there is one attorney serving the whole of the Upper West Region.
Mrs Mould-Iddrisu said the regions faced acute shortage of office and residential accommodation, furniture and lack of official vehicles.
She said all the factors were weighing down the performance of the prosecution division as the list of cases continued to grow.
In 2009, The Ministry of Justice received a total of 561 cases, made up of narcotics, robbery, traffic offences, rape, abetment and crime among other things.
Mrs Mould-Iddrisu said to ensure that suspects on remand got speedy justice; a high level dialogue would be held involving all stakeholders to find a solution to the problem of the backlog of cases to be tried.
She said the Ministry had also submitted to cabinet to seek approval for the enactment of various bills, including the Freedom of Information, Public Officers Liability and the Intestate Succession bills.
On the other hand, she said Interpretation Bill, Alternative Dispute Resolution Bill and the Economic and Organised Crime Bill had been approved by Cabinet, published and submitted to Parliament.
Mrs Mould-Iddrisu said criminal and other offences Amendment Bill would introduce pre-trial negotiations between an accused person and a prosecutor to allow the accused the option to admit guilt and settle for lesser punishment.
The Minister expressed the hope that the passage of the Bill would speed up criminal trials and could be used in offences related to narcotics, corruption, bribery and other offences to be specified by the Attorney-General as an aid to obtain incriminating evidence against ring leaders in prosecutions.
Mrs Mould-Iddrisu said when the Economic and Organised Crime Office Bill is passed into law, it would replace the Serious Fraud Office and set up the Economic and Organised Crime Office as a specialized agency to monitor, investigate and prosecute offences that involve serious financial or economic loss to the country.
GNA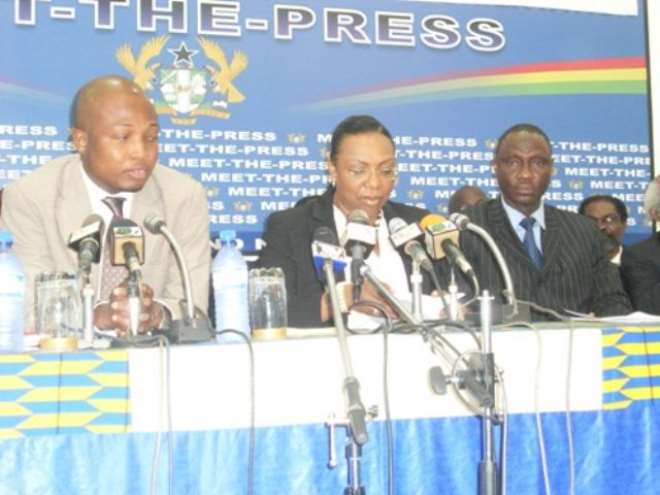 Mrs Betty Mould Iddrisu, Attorney General and Minister of Justice (middle) addressing the press with her is Mr Samuel Okudzeto-Ablakwa, Deputy Minister of Information (left), Mr Suleiman Ahmed, Acting Chief Director of Ministry of Justice (right).