Open Sex Rocks Tamale Market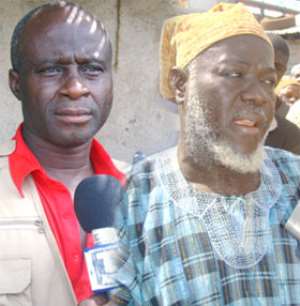 Alhaji Abdulai and Dawuda Dawuni ONE OF the most prominent markets in the Northern Region, the Aboabo Market, has become a centre of numerous illicit and abominable activities which are greatly affecting businessmen and women who use the facility.
Open sex at night, wee smoking and the invasion of some shops by thugs at odd hours are among the activities confronting the business community in the area, even as reports of poor sales are being recorded.
According to a section of the business community, the activities of what they described as prostitutes were having adverse effects on their daily sales as some of their stalls are converted to beds for the open sexual escapades.
Despite frantic efforts by authorities to halt such activities, the perpetrators have kept their grounds and not even threats by the watchdog committee could scare them away.
Used condoms and tissue can be seen in front of some stalls and shops in the market in the early hours of every day.
A representative of the Elder of the market, Mr. Dawuda Dawuni, who disclosed this situation after a clean-up exercise by the Tehisuma Youth Group at the market, blamed the soaring negative activities on poor security at the market.
He said the market lacked security gates and fences and other important facilities to guarantee the safety of wares of traders.
Mr. Dawuda was particularly worried about the open sex, saying it can have some negative repercussions on the market, and underscored the need for the market to be exorcised.
While appealing to the Tamale Metropolitan Chief Executive (MCE), Alhaji Abdulai Haruna Friday, to assist in the delineation and fencing of the market to ensure security of the wares of traders, he urged traders to collaborate with the authorities in apprehending the people behind those nefarious activities in the market.
In response, Alhaji Friday promised to forward their concerns to the assembly during its next sitting, bemoaning the abominable acts in the market.
He hinted that measures were being put in place to halt such acts, and warned that anyone caught would be dealt with accordingly.
The MCE added that the progress of the market was paramount to his administration, and reiterated the need for the cleanliness of the market in promoting good health among residents.
From Stephen Zoure, Tamale