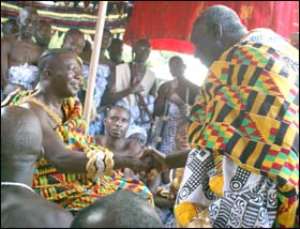 Otumfuo Osei Tutu congratulating Ex-President Kufuor THE ASANTEHENE, Otumfuo Osei Tutu II, on Wednesday conferred on former President Kufuor, a traditional title, 'Bonsu Bosompra', at a colourful durbar at the Manhyia Palace in Kumasi.
The title 'Bosompra', according to Dr. J.B. Danquah of blessed memory, is used to describe people with tough temperament.
The honour was in recognition of the former Ghana leader's invaluable contribution towards deepening democratic principles in the country, especially in the last eight years.  
An elated-looking Otumfuo personally decorated Mr. Kufuor with a medal, amidst applause from those gathered there, including the former First Lady, Theresa Kufuor.
The honour is aimed at influencing other politicians in the country and the African continent at large to emulate the shinning example of Mr. Kufuor who has been in active politics for over four decades.
The historic cultural programme was also graced by leading figures in the New Patriotic Party (NPP) including Nana Akufo-Addo and Alan Kyeremanten, as well as other current government officials.    
Mr. Kufuor was supposed to have been honoured alongside four other former African leaders including Jerry John Rawlings and an ex-Spanish leader, at a grand durbar commemorating the Asantehene's 10th year on the Golden Stool.
But Mr. Kufuor, who was then attending another programme outside the country, could not make it to the colourful programme held at the Baba Yara Stadium about two weeks ago.
During that event, Otumfuo also conferred on Mr. Rawlings, a traditional title, 'Agyewodin', for also promoting democracy in the country.
Previously, the Asantehene had decorated a prominent son of the land and former United Nations Secretary General with a similar title christened, 'Busumuru' for his distinguished role in peace-building across the globe.
Otumfuo Osei Tutu II also on Wednesday honoured 17 prominent sons of the land who had contributed immensely towards the success of his reign so far.
The 17 honorees included members of the clergy, business executives, and Ashanti royals, among a host of other prominent persons.
Earlier, the Asantehene who attained the age of 59 on the day, had attended a special church service at the Saint Cyprians Anglican Church to thank his creator for His blessings.
Hundreds of well-wishers including former President Kufuor and his wife, as well as prominent politicians in the country graced the occasions.
Also in attendance were paramount and divisional chiefs in the Ashanti Kingdom as well as business executives and royal family members of Ashanti.
The ceremony was characterized by the singing of hymns to thank the Almighty God for blessing the Ashanti monarch with yet another year.
From I.F. Joe Awuah Jnr., Kumasi