Sallas-Mensah penciled for commissioner-general?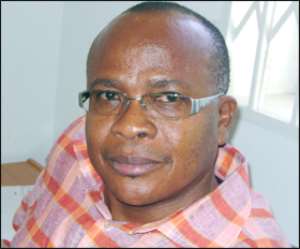 Samuel Sallas-Mensah INFORMATION GATHERED by BUSINESS GUIDE from certain confidential sources within the corridors of power suggests that Samuel Sallas-Mensah, a former Chairman of the Public Accounts Committee of Parliament, is likely to be appointed Commissioner-General of the yet-to-be-established National Revenue Authority (NRA).
Though efforts by this paper to reach Mr Sallas-Mensah on phone to deny or confirm the issue was unsuccessful, the confidential sources gave further assurance that he indeed has been penciled for the job.
Should this be officially corroborated sometime in the not-too-distant future, government's revenue collection machinery like the Internal Revenue Service (IRS), the Value Added Tax (VAT) Service and the Customs, Excise and Preventive Service (CEPS), will thus amalgamate and have a common board of directors.
The establishment of NRA will take place after Parliament reconvenes in May this year and makes amendment to the Revenue Agencies Board Act.
Currently, the three revenue collection agencies have separate boards which they remunerate monthly to the tune of several thousands of Ghana Cedis from the taxpayer's money.
It is expected that revenue collection will maximize and information sharing enhanced, through the creation of a central database at the NRA to capture and produce information on all tax-payers.
This will further put to rest the complexities often associated with revenue collection in Ghana especially where information on the tax position of payers have been found to be kept in diverse forms.
With the advent of NRA, the Executive Secretary of the Revenue Governing Agencies Board (RAGB) is also likely to be replaced.
The NRA will ensure that costs associated with the collection of revenues are reduced and tax evasion minimized. A tax intelligence unit is also probable.
By Samuel Boadi