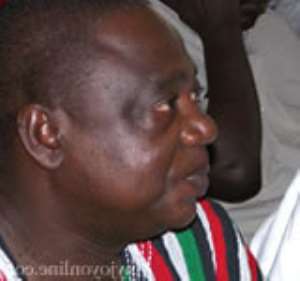 The Deputy Health Minister designate, Dr. Benjamin Kumbour says he does not feel slighted or demoted by the political office offered him.
What is important, he said, is the opportunity to serve his people in a public capacity.
The former Member of Parliament for Lawra/Nandom was speaking to Joy FM's Araba Coomson immediately after his vetting which lasted less than 30 minutes Tuesday.
Many were those who expressed surprise and in some cases outrage when Dr. Kumbour's name failed to show up on the list of ministers nominated by the president.
Seen as a potential presidential material, many, both within and without the ruling NDC were unimpressed with President Mills for leaving him out of his administration.
It had been widely speculated before the elections, that if the then opposition NDC won, Dr. Kumbour could be the Attorney-General and Minister of Justice.
This was in lieu of his immense understanding of the law and the hell he gave the then ruling New Patriotic Party when it came to legal matters.
The astute law lecturer led the NDC to court to contest some decisions of the government.
He was at one point a Ranking Member of the Constitutional and Legal Affairs Committee of Parliament.
But President Mills favoured Mrs Betty-Mould Iddrisu for the office of the Attorney-General and Minister of Justice, leaving Kumbuor with only an a deputy ministerial appointment.
Dr. Kumbour was a vociferous spokesperson for NDC in opposition and many thought appointing him as a deputy minister was some kind of demotion.
He however said he had no qualms about the appointment.
Answering questions from members of the Appointments Committee of Parliament, of which he was a member, the law lecturer said implementing the NDC's promise of one off payment for National Health Insurance would be challenging, but implementable.
Given his brief vetting, Kumbuor said he was not surprised because he did not expect to be grilled for long.
Story by Malik Abass Daabu