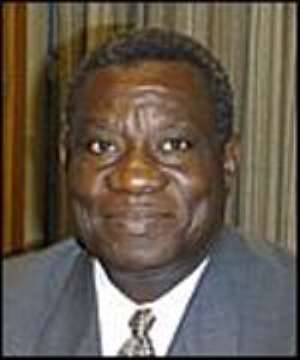 Say something before it is too late
Is there a President in this country at all? Did Ghanaians vote for a Government last December? I am compelled to ask these questions not because of political motives but because I want to see our country's Democracy grow and get stronger. Recent developments have given me cause to wonder if indeed, we voted for a political party to govern us.
From January 7 2009, Ghanaians have not been spared a day without a furor about either ex-gratia, cars, public toilets, state bungalows or other unnecessary things. Let me state emphatically that it is unpardonable for any state official or ex-official to possess any property in any form as his personal property. This is an offence and any person found culpable must be dealt with according to the laws of this country. I believe Politicians are not suppose to amass wealth when they are voted in power but rather help reduce the socio-economic plights of the masses. However, I have observed a trend that must be stopped else soon there will be bad blood between the current President, Prof. John Evans Atta Mills and the former President, John Agyekum Kufour.
In the early days of this Government, the hot topic in the media and minds of Ghanaian was the ex-gratia of the former President. This issue took almost a month before going away. Some Ghanaians tagged the former President as greedy and wicked for requesting all those facilities as his ex-gratia. I personally think some of those facilities were unnecessary and should not have been recommended by the Chinery Hesse Committee at all. One of those was the Six Cars which must be replaced every four years; I think it was too much. But hey, who should we blame? I think Ghanaians should have put their anger and worries on the legislature, Parliament for approving these recommendations. The committee only had to make recommendations which will have been useless without the blessing of Parliament. Again you can not blame these Ghanaians much because some persons are hoping to tarnish the image of the former President at all cost. The Committee for Joint Action (CJA) also held a demonstration against the Chinery Hesse report which was legal but failed to direct their grievances to the right quarters. By the way I have a problem with their name, I understand a committee is a sub organisation under a firm or organisation but for CJA I wonder under which organisation they are probably NDC may be. Back on the issue printed on some of those placards were insults reigned on the former President as been greedy, wicked, 50 Cent and all which further poisoned the minds of Ghanaians as though these were requests coming from the Former President. I am sure their executives knew how the report came to being but hey they had an influenced agenda to pursue. It was refreshing though to here some Members of Parliament proposing a review.
The second issue was the cars which the former President took home. But for the motives of some people, this did not deserve a media attention. If we Ghanaians agree that, ex- presidents when leaving office should not take a single vehicle home, fair enough but if this has not been agreed I do not see anything wrong with the former President taking those cars home. I think a better legislation should be laid down on the exiting of Presidents of this country. In any case there is precedence, the former President Jerry John Rawlings when leaving office took Twelve (12) away. It was 15 Months later on February 26, 2002 that Seven (7) cars including a Blue Chevrolet Bullet Proof car was returned and Five (5) of them were kept . I am not endorsing the acts of the former President Jerry John Rawlings but just indicating the precedent that existed before this whole event. If there was no media and public controversy over President Rawlings actions why is there any for President Kufour? Now let me ask a rhetorical question, did we expect the former President to walk from the castle to the house? These cars were in his possession while he was the President so it is only normal that the current President requests for some of those cars. Interestingly, former President Kufour took Six (6) cars home, Three (3) cars were first retrieved and the rest left for his use. Who ordered for the retrieval of the rest of the Three (3) cars? Why wasn't the same means used to retrieve the rest of the cars without the media and public controversy? Why weren't all the cars taken at the first time? I smell mischief here don't you? In any event, cars were left in the Castle for the President's use any way. Clearly Ghanaians are interested in food on their table, unemployment, rising inflation rate, rising rate of crime, accidents on our roads, shortage of fuel in parts of the country and other pertinent issues confronting them than all these controversies. Mr. President please tighten your belt for the long road ahead and be in charge if you can here me at all please. TO BE CONTINUED ………….
Faisal
a.k.a
Attaa Oko
Accra