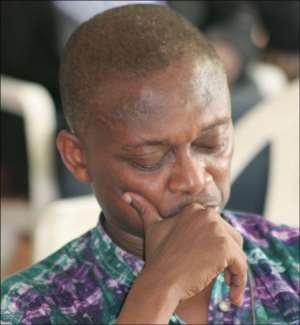 Abdul Malik Kwaku Baako Jnr ACE JOURNALIST, Malik Kweku Baako, has accused the National Security Co-ordinator, Col Larry Gbevlo Lartey, of setting the political stage for President John Mills to withdraw his verbal permit that ex-president Kufuor can use a state bungalow at Ridge in Accra as his private office.
According to Mr. Baako, Editor-in-Chief of the New Crusading Guide, public claims by Gbevlo Lartey in the media that the said building is a security outfit and that the former president has no right to use, it is an unnecessary comment which should not have come from the head of National Security especially when the issue had taken a controversial and political partisan twist.   
"It is unnecessary and indeed even unhelpful... he is providing an excuse for the President not to follow up with the oral approval he gave to P.V. Obeng to be given to President Kufuor. That is all; that is the intelligent analysis that I can make on the intervention that the National Security Coordinator did.
"There are many avenues by which the government can communicate matters without necessarily getting the whole National Security Co-ordinator himself to come on air and wage into something that had clearly become a political controversy because he must be sensitive to some of the issues that have assumed a high political nature; if you want to speak on such matters, you ought to exercise a little bit of caution," Mr. Baako yesterday told Peace Fm's Kwame Sefa Kayi on the station's 'Kokrokoo' morning show.
The Editor-in-Chief said since the people of the president as well as the Office of the President are key characters in the political controversy surrounding the said office at Ridge, Gbevlo Lartey should not have commented in his capacity as National security Co-ordinator, more so when he works directly under the President.
 "Why does it have to be a person with a sensitive position like National security Coordinator who would come in and tell people that as far as he is concerned, this is our property and unless the President had ordered, he is not giving it out.
"In doing that, you have joined the political controversy with this kind of intervention; the president is the head of the National security Council and indeed he is the Commander in Chief of this territory so what was the need for the subordinate of the president to come and tell us this," Mr. Baako stated.
By Halifax Ansah Addo