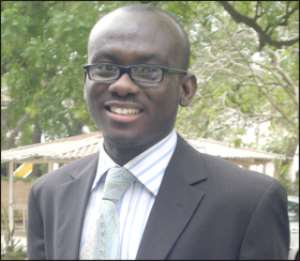 Lawyer Godfred Yeboah Dame An Accra-based legal practitioner, Godfred Yeboah Dame, has marched to court, demanding that a learned colleague of his be incarcerated for airing a statement he considers offensive of the administration of justice in the country.
Lawyer David Annan, according to Mr. Dame, should be committed for contempt of court following a number of remarks he uttered during a radio programme; after judgment had been delivered in a libel case filed by Lawyer Mohammed Mumuni against Western Publications, publishers of DAILY GUIDE.
In his application to commit the respondent, Lawyer David Annan, for contempt of court, Lawyer Dame found the assertion of his colleague that he (Dame) knew about the contents of the judgment even before it was delivered by Justice K.A. Acquaye, the Court of Appeal judge who gave the ruling on 27th February 2009, as scandalous of the court.
The respondent, he noted in the motion, stated that the case as ruled on was not listed in the cause list of the Fast Track Court.
To counter this assertion, Lawyer Dame attached a copy of the cause list which showed that the case was listed as BMISC. 711/04- ALHAJI M MUMUNI VS. WESTERN PUBLICATIONS LTD 11 A.M.
The foregone criticism as contained in the positions raised by David Annan, according to Lawyer Dame, suggested that he was the only person who knew that judgment would be delivered on the aforementioned date.
Such an assertion emanating from a learned personality like David Annan, he found unseemly.
Besides, Lawyer Dame stated that "the respondent's assertion imputed collusion and connivance between my good self and the particular court/judge who delivered the judgment in question."
Besides intending to denigrate the value of the judgment, Lawyer Annan's comments, according to Lawyer Dame, "sought to bring the administration of justice into disrepute and to reduce the effect, substance and value of judgment of this Honourable Court."
Continuing, he posited that applicants "shall prove that the respondent deliberately acted with the intention of running down this Honourable Court's judgment to the extent that all the comments made by the respondent were untrue and Respondent who is a lawyer, neglected to or refused to check the accuracy of those statements before making them, even though the said statements had the tendency to assail the integrity of the presiding judge as well as counsel in the matter."
Lawyer Mohammed Mumuni took Western Publications, publishers of DAILY GUIDE, to court for publishing a story he found libelous to his image; judgment of which was made in favour of the defendants.